FourFourTwo's 100 Best Football Stadiums in the World: No.3
By Paul Simpson published
Third in our list, the former Empire Stadium that went from near-bankruptcy to being the Venue of Legends. Paul Simpson gets Wembley fever...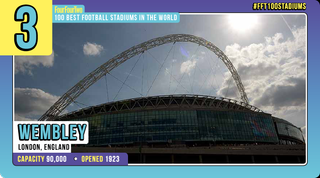 Long before Ossie Ardiles's knees got all trembly at the prospect of playing on the hallowed turf, Wembley had been the cynosure of millions of dreams.
"Wem-ber-lee" are the three most exultant syllables in the football lexicon. In this context, Wembley is more symbolic than actual; a paradise where dreams are realised, heroes made, and, in Ardiles's memory, Ricky Villa is always dribbling mazily through Manchester City's defence.
No construct of concrete and steel could fulfil such expectations. But that hardly matters, as Hugh McIlvanney noted in his report on the 1966 World Cup final.
STADIUM FACTS
Location London, England
Opened 1923 (Renovated 2007)
Tenants England
Capacity 90,000
Recordattendance 90,000
"As a football stadium, Wembley is overrated," McIlvanney wrote. "The slow, sweaty crush out of the tube station and the long trudge along Stadium Way, where ticket touts and vendors of smelly hot dogs wait in ambush, are not immediately rewarding. The closer you come, the shabbier it looks, twin towers notwithstanding. Under the stands, there is the grey cavernous gloom of most English grounds."
Yet, McIlvanney's report suggests, that is not the whole story: "Wembley has occasions that work a metamorphosis, that make grown men persuade themselves the hideously inconvenient journey from London is an adventure and transmute the undistinguished concrete bowl into a 'seething cauldron'."
FA Cup finals, England internationals – not just that 4-2 – European Cup finals, even Football League play-offs can work that metamorphosis, rendering the distinction between old and new Wembley irrelevant. Bereft of fans and players, such stadia are monuments of purposeless splendour.
"The Greatest Arena in the World"
Splendour was certainly intended when McAlpine and Sons built Wembley in 1922. The new stadium was a triumph of civil engineering in the crumbling British Empire's grand tradition – handy really, as it would host the British Empire Exhibition.
Robert McAlpine said of the Empire Stadium (its official title then): "For speed of erection, size, beauty, accommodation and permanency, it has never been equalled. And it is the work of British brains and British hands."
FEATURE Born of folly and almost demolished after two years: Wembley's early history (opens in new tab)
Even the pitch was on a grand scale – although, at 115 x 75 yards (compared, say, to Maine Road's 116.5 x 78), not quite the wide-open space of lore. Kevin Ratcliffe, Everton's FA Cup-winning skipper in 1984, said: "The turf was supposed to be energy-sapping. People'd ask: 'Did you get Wembley cramp?' I'd reply, 'No it was the 60-odd games I'd already played'."
The flowery prose in the programme for the first Wembley FA Cup final, in 1923, hailed the stadium as "The Greatest Arena in the World – the largest, the most comfortable, best-equipped, holds more than 125,000 and in area it equals the Biblical city of Jericho". It's unclear how they measured Jericho.
The only Biblical aspect of that FA Cup final, won by Bolton Wanderers against West Ham, was the way 150,000 spectators parted like the Red Sea as PC George Scorey, riding a white horse called Billy, helped clear fans off the pitch.
The unpredictable pantheon
Scorey and Billy were the first to enter Wembley's pantheon of heroes. As pantheons go, the stadium's is delightfully unpredictable. True, it stars the usual suspects: Stanley Matthews, Ferenc Puskás, Danny Blanchflower, Gianni Rivera, Bill Shankly, Bobby Charlton, Eusébio, George Best, Bobby Moore, Alf Ramsey, Johan Cruyff, Gunter Netzer, Kenny Dalglish, Ian Rush, Gary Lineker, Pep Guardiola, Zinedine Zidane, Lionel Messi, Didier Drogba and Arjen Robben.
Such undisputed greats nestle alongside the likes of four goalkeepers: Manchester City's Bert Trautmann, who played the final 17 minutes of the 1956 FA Cup Final with a broken neck; Sunderland's Jim Montgomery, Leeds United's tormentor-in-chief in the 1973 FA Cup Final; Jan Tomaszewski, the elastic Polish goalkeeper who defied England later that year; and Colombia's scorpion-kicking custodian René Higuita.
At the other end of the pitch are four equally unlikely heroes: Alex Jackson who became, in 1928, the only Scotsman to score a hat-trick against England at Wembley and once changed clubs for the price of a football; journeyman Keith Houchen, whose diving header in the 1987 FA Cup Final is the greatest moment in Coventry City's history; Charlton cult hero Clive Mendonca who scored a hat-trick in the 1998 Division 1 Play-off Final and Geoff Hurst, who was on target just twice for England before becoming the only man to score three in a World Cup final.
Saved by a tobacconist
Yet the venue's greatest hero must be tobacconist Arthur Elvin, who paid £127,000 for Wembley in 1927, saving what had become a financially unviable stadium from demolition. The way to stop Wembley going to the dogs, Elvin decided, was to send in the dogs. Greyhound racing's success paved the way for the staging of speedway, rugby league, the 1948 Olympics, boxing, stock car racing, ski-jumping (with fake snow), and daredevil motorcycling stunts (Evel Knievel crashed at Wembley in 1975, trying to soar over 13 London buses).
The one ambition Elvin didn't achieve as Wembley chairman was establishing its own Football League club. In 1928, retired footballer Dick Slolely hired the stadium for his amateur all-star team, the Argonauts, who he expected to join the Football League. When the plan was rejected, Slolely's former club Ealing briefly played at Wembley, notably losing 4-0 to fellow Southern Leaguers Ipswich Town. (What a fiendish pub quiz question: who was the first Ipswich player to score at Wembley? Not Roger Osborne, in the 1978 FA Cup Final, but inside-forward Len Gibbs.)
Unencumbered by Argonauts, Wembley was free to inspire a more epic narrative, become the spiritual home of English football and acquire such an aura internationally that Pelé called it "the cathedral of football, the capital of football and the heart of football".
Amazing days, immortal nights
The 1953 Matthews Final – Stanley Mortensen became the only man to score a hat-trick in a FA Cup final, as Blackpool beat Bolton 4-3, but Stanley Matthews, with three assists, turned the match – was not just one of the greatest-ever wing displays; it summed up all that was good about English football at that time, electrifying a nation fed up of rationing and hoping for better things under new monarch Queen Elizabeth II.
Six months later, English football was shocked out of its complacency. Gusztav Sebes's Hungary, led by Puskas, Nandor Hidegkuti and Sandor Kocsis, became the first foreign side to defeat England at Wembley, winning 6-3 and pioneering such revolutionary concepts as false nines, attacking full-backs, deep-lying midfielders, sweeper-keepers and 4-2-4.
That humiliation gave Alf Ramsey, one of England's defenders, licence to experiment when he became national team boss. The 4-3-3 with which England won the 1966 World Cup was – despite the quality of Gordon Banks, Charlton and Moore – more about organisation and perspiration than inspiration. In 1972, the limitations of Ramsey's vision and England's game were cruelly exposed when a Netzer-inspired West Germany walloped England 3-1 at Wembley.
The hallowed turf has fitfully inspired the Three Lions since. Every ecstatic memory – Gazza's dental chair celebration at Euro 96 – is matched by a dire one: see Steve 'wally with the brolly' McClaren cringing in the rain as England failed to qualify for Euro 2008.
Wembley, at the heart of Europe
Wembley has been a useful proving ground for Europe's greatest club sides. In 1963, Nereo Rocco's Milan won their – and Italy's – first European Cup there, playing a constructive brand of catenaccio. Five years later, Manchester United won England's first European Cup there, a triumph that tugged at the heartstrings – Charlton felt the glory belonged to the Busby Babes, who had died at Munich 10 years before – yet also suggested a renewed focus on attack.
That focus was gloriously confirmed at Wembley in 1971 when Rinus Michels' Ajax, intellectual heirs to Szebes's Hungary, won the first of three successive European Cups against a Puskás-managed Panathinaikos.
The Dutch, inspired by Cruyff, gave a more devastating demonstration of Total Football in 1977, defeating Don Revie's England 2-0 with such aplomb they got a standing ovation at half-time. Netherlands midfielder Jan Peters said: "Every player thinks Wembley is the most beautiful stadium in the world." In this instance, beauty may have been in the eye of the victor.
In 1992, Cruyff returned to Wembley as coach, masterminding Barcelona's first European Cup triumph. In 2011, the revolution that Hungary and Ajax had ignited culminated in another emphatic 3-1 win, as Barcelona demolished United at the new Wembley, giving the most authoritative performance since the stadium reopened in 2007.
Wembley v2.0
Demolishing the old Wembley was controversial. The Twin Towers' demise provoked the kind of synthetic tabloid outrage hitherto reserved for 'revelations' about Spanish cruelty to donkeys. The Germans were implicated. Didi Hamann scored the last goal at the old Wembley in October 2000, as Germany won a dismal encounter 1-0 and England manager Kevin Keegan quit. Two years later, a 130-ton German bulldozer called Goliath began demolishing the stadium.
The new Wembley has the right statues – Elvin, Moore and Ramsey – 90,000 reasonably spacious seats and Foster's 133m-tall arch... but does it have any atmosphere? Writing for Vice Sports, Will Magee lambasted new Wembley as what French anthropologist Marc Augé calls a "non-place", a transient, soulless construct, the Travelodge of football stadia.
That's harsh. By the 1990s, some young England players were wondering what had happened to the legendary 'Wembley atmosphere'. Writer Giles Smith called old Wembley "one of the worst places in the world to eat, urinate and watch football". The real distinction between the two could well be that new Wembley hasn't inspired the same archive of memories – yet.
The new Wembley will never be as sacred as its predecessor because so many teams can play there. It hosts England internationals; the final and semi-finals of the FA Cup; the finals of the League Cup, the Johnstone's Paint Trophy, the FA Vase and the FA Trophy, the Football League play-offs and the Community Shield. Only three Premier League/Football League clubs have yet to play at Wembley (old or new): Accrington Stanley, Crawley Town and Hartlepool United.
With most countries having their own capitals of football, Wembley's role had changed even before demolition started. The idea may appal purists but giving the likes of North Ferriby United (the 2015 FA Trophy winners) the chance to play in the same stadium as England could ensure the new Wembley remains at the heart of English football.
FEATURE Born of folly and almost demolished after two years: Wembley's early history (opens in new tab)
#FFT100STADIUMS The 100 Best Stadiums in the World: list and features here
––––––––––––––––––––––––
#FFT100Stadiums: The list
100-91 (opens in new tab) • 90-81 (opens in new tab) • 80-71 (opens in new tab) • 70-61 (opens in new tab) • 60-51 (opens in new tab) • 50-41 (opens in new tab) • 40-31 • 30-21 (opens in new tab) • 20-11 • 10 (opens in new tab) •9 (opens in new tab) • 8 (opens in new tab) • 7 (opens in new tab) • 6 (opens in new tab) • 5 • 4 (opens in new tab) • 3 (opens in new tab) • 2 (opens in new tab) • 1 (opens in new tab)
#FFT100Stadiums: The features
• How we chose the list (opens in new tab)

• A brief history of football grounds, by Simon Inglis

• The greatest stadiums that never were

• Who the hell is Santiago Bernabeu? Named stadiums explained (opens in new tab)

• QUIZ How many of our 100 have you visited? (opens in new tab)

• Archibald Leitch: the man who invented the football stadium (opens in new tab)

• The world's biggest stadiums (opens in new tab)

• QUIZ Higher or lower? Take our stadium capacity quiz (opens in new tab)

• How to build a football stadium, by those who did

• The 11 weirdest stadium names (opens in new tab)

• In memoriam: Britain's great lost grounds (opens in new tab)

• QUIZ Name that stadium (opens in new tab)

• Coming soon: The new stadiums being built and planned

• The most beautiful grounds in the world (opens in new tab)

• GALLERY 9 of the best from the '90s (opens in new tab)
Disagree with us? Join the debate on Twitter, Facebook, Google+ and Instagram.
Thank you for reading 5 articles this month* Join now for unlimited access
Enjoy your first month for just £1 / $1 / €1
*Read 5 free articles per month without a subscription
Join now for unlimited access
Try first month for just £1 / $1 / €1