Revealed! The best- and worst-supported Premier League clubs
The mathematics have been done and Villa fans, we're sorry, but you're bottom of another table...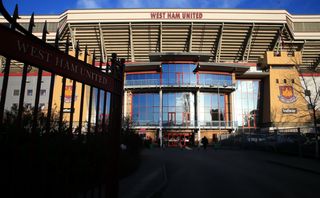 The Boleyn Ground is rapidly approaching the end with West Ham United, but the fans are paying their respect with an England-high average attendance recorded at 99.8% (34,930/35,016) of its capacity filled each game.
Second are Norwich (99.7% - 27,030/27,108) with the Canaries relishing their first season back in the Premier League. Manchester United complete the top three (with 99.4% - 75,335/75,731).
West Brom, with a large majority of their fans reportedly unhappy with their style of football under Tony Pullis, come in 18th (91.0% - 24,348/26,768). Below them are Sunderland (86.0% - 42,150/49,000) and Aston Villa complete the bottom three, propping up the table (81.4% - 34,846/42,788).
Surprise league leaders Leicester City are 10th (98.5% - 32,013/32,500). Chelsea are 5th (99.2% - 41,517/41,841) even though this season has been an forgettable one for the Blues.
Other 'top six' sides include Arsenal in 4th (99.4% - 59,963/60,355), Manchester City in 7th (98.7% - 54,000/54,693), Tottenham in 9th (98.6% - 35,733/36,240) and Liverpool in 13th (97.1% - 44,058/45,362).
The graphic below is interactive - click or tap for more details. (If you're on mobile, turn to landscape for a better view.)
Revealed! The best- and worst-supported Serie A clubs
Research compiled by myvouchercodes.co.uk.
Thank you for reading 5 articles this month* Join now for unlimited access
Enjoy your first month for just £1 / $1 / €1
*Read 5 free articles per month without a subscription
Join now for unlimited access
Try first month for just £1 / $1 / €1