Ranked! The 50 best players in the Premier League this season
As we approach the finish line, it's time to honour the finest performers in the top flight this term. Off we go...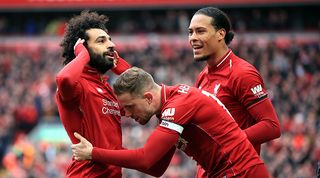 It doesn't feel like very often where you can genuinely turn to your pal and say: 'This has been a great season, hasn't it Margaret?' But 2018/19 has been one of those.
With four/five matches remaining, two of the finest sides in top-flight history are fighting for the Premier League title; four teams are scrapping for the two remaining places in the top four; four more teams have a realistic shot at the final European place; and the last remaining relegation slot hasn't yet been allocated.
Right now, Liverpool and Manchester City matches are must-watch events where the smallest slip-up could cost either side everything. As a result of their excellent seasons, many of their players feature in the higher echelons of this list – but there's been much more than those two sides to celebrate this term. Behold the below...
50-41 • 40-31 • 30-21 • 20-11 • 10-1
50. Moussa Sissoko (Tottenham)
Did anyone see this coming? Even Mauricio Pochettino himself, the elixir of life, must have been surprised by Moussa Sissoko 2.0. The Frenchman has stripped his game right back, and in doing so has become one of the most effective central midfielders in the Premier League.
His technical deficiencies are still laid bare on occasion, but Sissoko has learned to play to his strengths this season – and the results have been staggering.
49. Shane Duffy (Brighton)
The giant Irishman has been in hot scoring form this season and currently sits second in Brighton's top-scorers list. You might think that's not hard in a Seagulls side that's struggled for goals this year – and you'd be right – but the imposing defender has a valuable weapon from set-pieces and only one central defender in Europe's top five leagues has scored more (one S. Ramos).
Duffy has been reliable this season while those around him often haven't been. If Brighton go down, the 27-year-old surely won't be going with them.
48. Salomon Rondon (Newcastle)
It's not easy scoring nine goals in a team as defensive-minded as Newcastle, but the West Brom loanee has done just that in helping to make the Magpies safe with relative ease this term.
It's no wonder that the Venezuelan striker is held in high regard by Rafa Benitez: if there's one thing the Newcastle boss respects, it's hard work and discipline – and Rondon has demonstrated both in good measure this term.
47. Ashley Barnes (Burnley)
Burnley have already scored more goals this season than last, when they finished seventh and qualified for Europe.
Ashley Barnes is a big part of that. Sean Dyche's first cash signing as Clarets manager in 2014 has become a Turf Moor legend, and the striker has scored more Premier League goals for the club than anyone else. Ten more this season mean he's Burnley's joint-top scorer alongside Chris Wood.
46. Abdoulaye Doucoure (Watford)
To describe Doucoure merely as a midfield destroyer would be an unfair summation of his skills. The Frenchman carries the ball beautifully and is adept with either foot, while his surging runs from deep have helped Watford transition to attack in a direct fashion that many teams have struggled to deal with.
Five goals and six assists this term make for a good haul overall, and it's not difficult to see why the rumours linking him with PSG refuse to go away. He's made no secret of his desire to move on up soon.
45. Ashley Westwood (Burnley)
Westwood recently turned 29 and he's still waiting for the respect he deserves. Very few footballers have transitioned overnight from League Two talent to Premier League regular, as he did with Aston Villa in 2012, and he's closing in on 200 top-flight appearances.
Importantly, he is still willing and able to develop: once, an efficient but unambitious ball recycler, now he's often playmaking from deep – vital in a Burnley side that can lack creativity. His pass success rate in 2018/19 is significantly lower than ever before, yet he has assisted more goals (seven) than in his previous five campaigns combined.
44. Christian Eriksen (Tottenham)
The Danish dynamo has, by his own high standards, endured something off an underwhelming season. Whether it's post-World Cup fatigue or the continued uncertainty over his future, Tottenham's long-time creative lynchpin hasn't seemed to wave his magic wand with the same regularity as in previous campaigns.
And yet, despite all that, he's still (at the time of writing) the Premier League's joint-highest provider of assists, with 12. Well, we said those standards were high...
43. Wilfred Ndidi (Leicester)
No player has won more tackles than the telescopic-limbed Nigerian, who also ranks ninth for interceptions. Leicester were never going to replace N'Golo Kante like for like, but in Ndidi they arguably got the next-best thing.
The 22-year-old would likely be at a bigger club if his passing was better – but for now, the Foxes are the ones enjoying his all-action talents. "How he wins the ball is incredible," said his manager Brendan Rodgers. "[How] he covers the ground, his anticipation of where the ball is going and how he reads it, and the number of counter-attacks he stops."
42. Matt Doherty (Wolves)
Wolves's longest-serving outfield player has recovered superbly from an own goal in the second game of the season against Leicester, and his consistency has been a key tenet of Nuno Espirito Santo's Black Country revolution.
Doherty was rejected by 15 English clubs before Mick McCarthy took a punt in 2010, after he'd impressed for Bohemians in a pre-season friendly against Wolves. It must go down as the best £75,000 that the club has ever spent.
41. Aaron Ramsey (Arsenal)
It's naive to think that Ramsey could have slunk off to Juventus after half-arsing his final few months at Arsenal, when professional pride is at stake. The Welshman has done more than just turn up. Instead he has driven his team, most notably against Newcastle and twice against Spurs, coming off the home bench to engineer a comeback win with two magical assists, before scoring at Wembley.
Arsenal haven't conceded in the seven hours he's spent on the pitch in league games since his impending move was announced.
50-41 • 40-31 • 30-21 • 20-11 • 10-1
40. David de Gea (Manchester United)
This hasn't been anywhere close to De Gea's best season in Manchester and yet he's still probably been the third-best goalkeeper in the division, and maybe even better than that.
The consistency is incredible, but more impressive still is De Gea's propensity for producing a match-saving save minutes before United win the game later on.
39. Declan Rice (West Ham)
What a year it's been for the West Ham academy graduate. In less than nine months, Rice has become the beating heart of the Hammers' midfield and earned his first England caps as a result.
He still has plenty to improve on, but plays the game beyond your average 20-year-old; distributing the ball with the composure that's quickly won him a place in Gareth Southgate's good books.
38. Conor Coady (Wolves)
Liverpool-born Coady has evolved into one of English football's most consistent operators in his first season as a Premier League regular. Converted from a functional midfielder (and occasional right-back) into a smooth central stopper by Nuno, the 26-year-old Wolves captain looks every inch the polished product at Molineux and will only improve as he approaches his peak.
He was often embarrassed by Luis Suarez in training at Liverpool – "he used to twist me inside out, it was never the happiest of times," he told the Guardian earlier this season – but Coady is now a star in his own right.
37. Jose Holebas (Watford)
Surely the most entertaining full-back in the Premier League for the neutral. Holebas is now 34, and it will be a damn shame if this is the summer that Watford finally opt for new blood.
Thought he couldn't beat his totals of two goals, four assists and 14 yellow cards in 2017/18? Three goals, six assists and 11 yellows by mid-April says you're wrong.
36. Andre Gomes (Everton)
He may only have one goal and one assist to his name this season, but the Portuguese midfielder's year-long loan on the blue half of Merseyside has been exactly what both player and club(s) needed.
Gomes himself has established himself as a first-team regular, Everton have enjoyed a creative and dextrous addition to their midfield and Barcelona have reminded Europe that Gomes is a very good player – just one not quite capable of getting into their own team. If the Toffees can persuade him to stay beyond June 1, the future's bright.
35. Wilfried Zaha (Crystal Palace)
There's always been a brooding intensity to Zaha's play, but the Ivory Coast international has now transposed desire into definitive end product. Quick, mobile and supremely skilful, the 26-year-old is the perfect counter-attacking forward, which is just as well given that seven of the Eagles' 11 league victories have come on the road.
When Palace travelled to Newcastle recently, Magpies boss Rafa Benitez spent the whole week drilling his defence in one-on-one situations – and they still conceded a match-deciding penalty, won by Zaha. Unplayable at his best.
34. Marcus Rashford (Manchester United)
Isn't it funny when you play a striker as a striker and he starts scoring goals? Rashford isn't perfect, but the England striker has shown why he deserves regular opportunities through the middle this term with double figures for goals and six more assists in the Premier League.
The 21-year-old was only given sporadic opportunities up top under Jose Mourinho, but netted in six of Ole Gunnar Solskjaer's first eight Premier League matches after being given a proper run – plus that ice-cold winning penalty at PSG in United's remarkable last-16 comeback.
33. Dele Alli (Tottenham)
It has been a frustrating campaign for Spurs' connoisseur of flair. Recurring injuries have made for a patchy season after a draining summer – but his absence has only accentuated how important the tireless playmaker has become to a Spurs team that can be accused of lacking impetus in the final third.
Dele's penetrating runs and neat link-up play tie attacks neatly together for Tottenham, and his fitness could prove vital in the final weeks of the season.
32. Callum Wilson (Bournemouth)
Unlike your Bothroyds, Nugents, Ingses and Kevin Davieseses (OK, too far), Wilson deserves to stick around with England. No one outside the top six contributes to a Premier League goal more regularly, and he's no tap-in merchant.
Whereas at the beginning of 2018 he'd scored the most Premier League goals without assisting one, this season he has laid on eight goals for his team-mates, to go with 12 of his own; only seven players in the division have created more. One of those is Ryan Fraser, who combines with Wilson so well.
10 - Ryan Fraser and Callum Wilson have combined for 10 Premier League goals this season, the most by a duo in a single campaign since Nicolas Anelka and Dennis Bergkamp in 1998-99 (also 10). Partnership. #BHABOUpic.twitter.com/GEWD9OwldD— OptaJoe (@OptaJoe) April 13, 2019
31. Victor Lindelof (Manchester United)
Borderline haunted under Jose Mourinho, the Swedish centre-back has returned to his World Cup form under Ole Gunnar Solskjaer.
Lindelof has been part of a defence which has kept 11 clean sheets this season, with his mobility and ability in possession perfect for a defence which alternates between a back four and a back three. Ole Gunnar Solskjaer has suggested a "rebuilding job" ahead at Old Trafford, but the 24-year-old will be part of it. Great tattoos, too.
50-41 • 40-31 • 30-21 • 20-11 • 10-1
30. Lukasz Fabianski (West Ham)
Life is rarely quiet for Fabianski. His save statistics were excellent at Swansea, but partly expected in a poor team where he was a busy boy. Still, since 2014/15, the Pole's finishing positions for the most saves in a season read as follows: 1st, 3rd, 4th, 2nd.
This season he's top once again, despite having joined a better West Ham team. Manuel Pellegrini's side have 'only' conceded the seventh-most amount of goals this term, which says more about a terrible backline than it does the man behind it. Their season would have been much worse without him.
29. Fabian Schar (Newcastle)
You might reasonably conclude that Rafael Benitez is interested purely in central defenders who fulfil the basic needs of tackling and heading, allowing Newcastle to soak up pressure and then play on the counter.
In Switzerland international Schar, however, he has found a bargain centre-half who can do all of that and then step majestically out of defence into midfield. For £3.5m, he's an absolute star.
28. James Maddison (Leicester)
It was evident from his Premier League debut at Old Trafford that Maddison would be just fine in the top flight. Sure, he'd enjoyed a fine Championship campaign for Norwich – but ultimately, £20m got Leicester an uncapped player with no top-flight experience.
And yet the 22-year-old eased into Premier League life like a seasoned pro, exuding confidence and swagger beyond his years. He's got results, too: a more difficult middle third of the season has been bookended by a fine start and finish with seven goals and six assists overall, and only one player in Europe has created more chances in 2018/19.
27. Ben Foster (Watford)
Well, this is awkward. Still, putting Monday's howler aside, Foster has quietly been one of 2018/19's best performers between the sticks – frankly, a revelation of a signing for the Hornets.
Some wondered why Watford were bothering to invest in a 35-year-old goalkeeper to replace their 37-year-old goalkeeper, but £2.5m has proved bargainous following a string of fine shot-stopping performances. Watford beat Huddersfield 3-0 in October and Foster was probably their best player.
26. Lucas Digne (Everton)
At first, Everton signing three Barcelona players represented a coup. Then, reports suggested that Barça were delighted to receive £45m for two surplus players while putting loanee Andre Gomes in the shop window.
Now, it's a coup again: Gomes (our No.36) has impressed and Digne has shone in Everton's otherwise frustrating season, linking well down the left, putting chances on a plate – three times he's crossed beautifully for Dominic Calvert-Lewin to head home – and delivering fantastic set-pieces. It's as if 2010-era Leighton Baines has regenerated.
25. Alisson (Liverpool)
Some players are just worth it. Virgil van Dijk was; so too the goalkeeper Liverpool chose to spend almost £67m on last summer – at the time, a world record. Together, the pair have helped transform the Reds' defence beyond recognition. Van Dijk began the process with his January 2018 arrival but Alisson has proved the missing piece, obliterating those haunting memories of Simon Mignolet and Loris Karius.
Liverpool have the Premier League's best defence in 2018/19, Alisson is catching up with Pepe Reina's record number of clean sheets – and there could yet be more to come.
24. David Brooks (Bournemouth)
The biggest compliment that can be paid to the baby-faced Brooks is that you wouldn't know this was his first ever season in the Premier League – further highlighted by the fact he only started nine games for Sheffield United in the Championship last season.
The 21-year-old Welshman has been ludicrously composed, bagged himself seven goals and five assists, and stood out as one of the finest young players in the top flight this term. This has been a very impressive debut campaign indeed.
23. Fernandinho (Manchester City)
Age may well be catching up with Fernandinho, but City have a weapon that will devastate opposition teams while he can still play at this level. As ever, his unselfish style of play has allowed City's more talented frontmen to thrive, while his constant probing forces opposition teams to move upfield in an effort to quell his harassment.
Guardiola's main focus this summer should be finding an adequate replacement for him – which is easier said than done.
22. Jan Vertonghen (Tottenham)
How many teams would kill for a player like Vertonghen? The Belgium centre-half is consistency personified and has been imperious for Spurs again this season, whether playing as a centre-back or wide on the left.
The ever-reliable 31-year-old is an ever-present for Mauricio Pochettino, who depends on his experienced stopper to start Spurs attacks with his fine passing range and willingness to bring the ball upfield. A diamond.
21. Raul Jimenez (Wolves)
The 27-year-old forward managed a meagre six goals for Benfica in the Primeira Liga last season – but has already struck double that amount for a Europe-chasing Wolves this season, adding another seven assists for good measure. Only one out-and-out striker (Callum Wilson) has more.
It's no surprise that the West Midlands club have exercised the clause in Jimenez's loan move to land him permanently. At £30 million, his performances this year make him a steal.
50-41 • 40-31 • 30-21 • 20-11 • 10-1
20. Martin Dubravka (Newcastle)
Only six clubs have conceded fewer goals than Newcastle this season – five of the current top six that aren't called 'Manchester United', plus Wolves. Rafa Benitez has been hailed for turning gravel into gold working under Mike Ashley, but his current goalkeeper may just be the best deal of the lot – around €5m for one of the Premier League's most rounded goalkeepers.
Dubravka has been terrific once again for the Magpies this season, having initially thrilled the St James' Park faithful after joining on loan in January 2018. He was named player of the year by the North East Football Writers' Association as a result, and has continued his fine form for a Newcastle side still punching above their weight in this division. Without him, that probably wouldn't be the case.
19. Aaron Wan-Bissaka (Crystal Palace)
Stand-in Wan-Bissaka only started seven Premier League games last season, and four of the first five came against Tottenham, Manchester United, Chelsea and Liverpool. But while some players would have crumbled, the Croydon youngster saw it as an opportunity to prove his mettle – and thrived.
Still, those outside of Palace – yes, including FFT – had wondered if the south Londoners had enough depth at full-back. Wan-Bissaka has proved everyone wrong with a brilliant season in which he's got the better of opposition wingers more often than not, earmarking him as one of the Premier League's best full-backs already. He is 21 years old.
18. Ben Chilwell (Leicester)
In 2014, England had such strength and depth at left-back that they omitted a world-class player from their World Cup squad. Four years later, their World Cup left-back was Ashley Young: 32 and right-footed.
Chilwell capitalised on this power vacuum as if it was an out-of-position opponent, becoming England's first choice through consistently excellent performances at Leicester. The 22-year-old can stretch teams with his pace but, unlike many modern full-backs, he defends patiently and loves an aerial battle too.
17. Etienne Capoue (Watford)
Watford's central midfield partnership of Capoue and Abdoulaye Doucoure have been one of the surprise successes of the season. But while Doucoure has licence to drive forward, Capoue is the holding midfielder that gives Javi Gracia's team the perfect balance.
No Watford player has made more tackles, and no player in the Premier League has made more interceptions. He is a rock, and has finally shown the levels of consistency that Hornets fans have craved.
16. Ryan Fraser (Bournemouth)
The Cherries' battle rat started the season as if powered by 8,000 volts, scoring five goals and providing a further nine assists by Christmas. Things have been a little harder to come by since the turn of the year, but the Scot's goal and two assists in Bournemouth's recent 5-0 destruction of south coast rivals Brighton was proof that the 25-year-old back is to his jinking, darting best.
Maintain that form and one of the Premier League's bigger boys – Arsenal, if you believe the tabloids – could soon indulge in some Cherrie picking. Sorry.
15. Joao Moutinho (Wolves)
Ruben Neves may come up with the spectacular goals, Rui Patricio the standout saves and Raul Jimenez a steady stream of goals, but it's experienced Portuguese midfielder Moutinho who has set the tone of Wolves' excellent season.
The 32-year-old has eight assists this season, and his recycling of possession in front of the back three has been the physical representation of Nuno Espirito Santo's attractive style – one particularly effective against the top six. The £5m Wolves paid Monaco for Moutinho last summer is one of the best bits of business in recent Premier League history.
14. Paul Pogba (Manchester United)
It's almost as though all that was needed was a manager who wanted to play one of the world's best players to his strengths, isn't it? Even with Manchester United's recent dip in form, Pogba looks a different player to the one who laboured through matches in the Jose Mourinho era.
He has contributed 26 goals in all competitions in 2018/19 – the best single season of his career – and in Ole Gunnar Solskjaer, finally has a coach who really believes in his attacking talents. Next year he has to dominate from start to finish.
13. Alexandre Lacazette (Arsenal)
Not quite the prodigious goalscorer that Lyon fans worshipped during his last three years with the club, but Lacazette has adapted his game at Arsenal to be a more complete striker.
So far this season he has managed seven league assists – more than he ever did in France – but it's his work rate and hold-up play that has most impressed supporters at the Emirates.
12. Pierre-Emerick Aubameyang (Arsenal)
Aubameyang hasn't always been an automatic pick in Unai Emery's starting XI, which is remarkable given his goalscoring prowess.
If he does have a tendency to miss presentable chances, that's overshadowed by his 36 goals and assists in 39 league games since his arrival – 18 of those strikes coming this season in a Golden Boot-chasing year. Emery's next challenge is to perfect an attacking strategy that contains both him and Lacazette.
11. Son Heung-min (Tottenham)
A corking season for Tottenham's South Korean talisman, who has battled international commitments like no other player this term and come through the other side shining. Harry Kane hasn't always been available this term, but Son has stepped up in his absence. The former missed five games across January and February; Son played in four of those and scored in each.
Twelve goals and six assists in 27 Premier League appearances make for a fine haul that Son must feel he could have added to without such a busy year of globetrotting.
50-41 • 40-31 • 30-21 • 20-11 • 10-1
10. Andrew Robertson (Liverpool)
The rampaging Scotsman has barely paused for breath since establishing himself as Liverpool's first-choice left-back halfway through last season. His driving runs and whipped crosses have added an extra dimension to the Reds' attack.
The needless booking he picked up in Munich which caused him to miss the first leg of Liverpool's Champions League quarter-final against Porto was a sign he still lacks a little big-game nous, but Jurgen Klopp is clearly confident there's scope for improvement.
"He's at 75 per cent – maybe less – of what he can do", Kloppo said earlier this season. Improve much more, and he'll easily become one of the game's elite wide players.
9. Aymeric Laporte (Manchester City)
If the French centre-back is fit, he plays – it's that simple in Pep Guardiola's Manchester City machine. It took Laporte half a season to settle after his January 2018 move from Athletic Bilbao, but the 24-year-old is now arguably City's most important player after Fernandinho.
Ice-cool in possession, he dictates play from the back and reads the game superbly, seldom having to actually tackle anyone. His continued absence from Didier Deschamps' France squad – regardless of a perceived lack of integration – remains a mystery.
8. Harry Kane (Tottenham)
This won't end up being Kane's best goalscoring season – unless he recovers from injury for Spurs' final game against Everton and blasts in 14 – but in a season beset by injury, fatigue and his club not playing a proper home game until April, he still led the line superbly until his (near-certainly) season-ending injury against Manchester City.
Missing out on scoring the first goal at Spurs' new home will stick in his craw, as will being denied the chance to score the first hat-trick, but what might sting most could be the possibility of being denied the chance to lead Spurs into a Champions League final. It's not an opportunity that's likely to come around too often...
7. Mohamed Salah (Liverpool)
Salah's form may not be on the same level as last season, but that's to be expected after the injury in last year's Champions League final, quickly followed by a summer at the World Cup. Plus the fact he broke a Premier League record, for crying out loud.
And yet Salah is still the top flight's joint-top scorer this season with 19 goals, and has also contributed seven assists. That strike against Chelsea last weekend was a timely reminder of what he's capable of, if one was needed. He might not be quite as good as last season's Mo Salah, but he's still a lot better than nearly everyone else.
6. Sergio Aguero (Manchester City)
For all the goals, plaudits, trophies and a better goals-per-game ratio than Alan Shearer, the sense remains that the Argentine is underrated in this country. Aguero has seldom even been in contention for either PFA or FWA Player of the Year awards, yet is possibly the best striker in Premier League history.
This season has been another cracker; one in which he has pushed Gabriel Jesus further out of contention and made a mockery of suggestions that he lacked the technical quality to survive in Pep Guardiola's system. Who needs experts, eh?
5. Sadio Mané (Liverpool)
The Senegalese often suffers from being overshadowed by the other two members of Liverpool's attacking triumvirate – particularly Mohamed Salah. The recent win over Chelsea was case in point: Mané scored what proved to be the decisive opener, nodding home Jordan Henderson's cross at the back stick, but nobody was looking beyond Salah's (admittedly cracking) second.
Mané's 18 Premier League goals to date have put him firmly in Golden Boot contention. Should the Anfield side finally end their title drought this season, his contributions will warrant as much praise as those of Salah, Virgil van Dijk or anyone else.
4. Eden Hazard (Chelsea)
The Premier League player of the last five years? Probably, even taking into account his Jose Mourinho-baiting gap year of 2015/16. The brilliant Belgian has again averaged roughly a goal every other game this season, but it's the 12 assists – the most he's ever managed in Chelsea blue – which have taken him to another level.
Enjoy that low-slung gait while you can, because Real Madrid are sniffing harder than mid-'90s Noel Gallagher on the gak.
3. Raheem Sterling (Manchester City)
The Manchester City forward is finally getting the kind of credit he deserves – both as a player and a man (watch his Insta stories of him larking about with his kids and honestly tell us you don't wish he was your dad).
If last term was his breakout year as consistent goal threat – if such a thing exists – this season has cemented his status as one of the most deadly frontmen in world football.
His 17 goals and nine assists have put him hot on the heels of last season's haul of 18 and 11 respectively, and you wouldn't bet against him surpassing both of those figures in the remaining fixtures.
2. Bernardo Silva (Manchester City)
With Kevin De Bruyne injured and David Silva playing a slightly deeper role, Manchester City needed a creative midfielder to step into the breach. Easier said than done, though: one was arguably their best player in a record-breaking season; the other perhaps their greatest of all time.
And yet they found one in 'winger' Bernardo, whose tireless work rate, constant movement and supreme dribbling has made him the unlikely star of City's season.
It's no wonder that Pep Guardiola holds him so dear to his heart. "I love him," declared the Catalan.
1. Virgil van Dijk (Liverpool)
If you've ever stood next to Liverpool's towering Dutchman, you'll immediately understand why Premier League defenders visibly shrink when in his presence.
"He's Virgil van Dijk, he's Virgil van Dijk!" sing Liverpool fans to the tune of Dirty Old Town. It's pretty hard to miss him, lads. The 27-year-old centre-back is the glue which holds together a Reds' rearguard that's otherwise leakier than Theresa May's cabinet.
Sometimes, statistics tell you everything. Liverpool conceded 1.2 goals a game in 2017/18, before Van Dijk's arrival. This season, it's 0.6. 'Nuff said.
You can tell us how wrong we are on Twitter @FourFourTwo (opens in new tab)...
50-41 • 40-31 • 30-21 • 20-11 • 10-1
While you're here, why not take advantage of our brilliant new subscribers' offer? Get 5 copies of the world's greatest football magazine for just £5 (opens in new tab) – the game's greatest stories and finest journalism direct to your door for less than the cost of a London pint. Cheers!
Thank you for reading 5 articles this month* Join now for unlimited access
Enjoy your first month for just £1 / $1 / €1
*Read 5 free articles per month without a subscription
Join now for unlimited access
Try first month for just £1 / $1 / €1