Quiz! Can you name the 50 longest spells of Premier League* managers?
The stalwarts who stuck around long enough to boss their teams in England's top flight since 1992/93. How many can you get?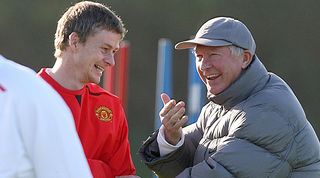 Ole Gunnar Solskjaer is just 22 days into his spell as Manchester United interim boss, meaning he only has [*gets FFT abacus out… eight hours later*] 9,682 days remaining to match his old gaffer Fergie. Let's try this again in 27 years, Ole.
Naturally, Alex Ferguson is some way clear in this list of long-serving head honchos, what with him having rocked up to Old Trafford when it was filled with cave paintings.
There are in fact four current Premier League gaffers who make the cut here too, denoted by a star below. You'll have astutely noted by now that this quiz doesn't just entail Premier League spells – but all are continuous, and featured at least one campaign in the top flight (and in some cases, that is indeed all they got with that club).
We've slapped 10 minutes on the clock for you to name as many of these comfortable kingpins as you can, and then want to know your scores @FourFourTwo – there are places up for grabs on our daily Twitter leaderboard, you know.
THEN READ... In praise of... Ed Woodward? How the Manchester United chief has redeemed himself – for now
Quizzes, features and footballing fun
Get the best features, fun and footballing frolics straight to your inbox every week.
Thank you for signing up to Four Four Two. You will receive a verification email shortly.
There was a problem. Please refresh the page and try again.