Quiz! Can you name the 66 current Premier League players who've played in the division for 3+ clubs?
There's a quarter of an hour on the clock for this mega-quiz – it'll test you...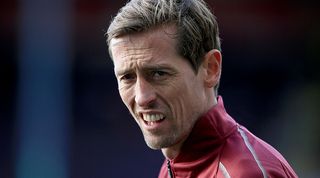 The one-club career player is a rare breed these days. Much more common is the journeyman: never spending more than a couple of seasons in one place, travelling around similar sized-teams, kicking a ball wherever they lay their hat.
Some find themselves forever warming a bench; utility players that can always 'do a job', no matter what team they're in. Others, though, find themselves a fan favourite everywhere. They put in the hard work, perform well and become cult legends all over the country.
But not everyone can be Crouchy, so we've compiled a list that includes both. There are 66 players currently plying their trade in the Premier League who've appeared in the top division for three or more clubs – and we're giving you a full 15 minutes to name as many of them as you can.
Given the nature of this quiz, we've laid out some rules: loan spells at Premier League clubs count; players must have appeared in the 2018/19 Premier League season (sorry to Rob Green), including those now out on loan; and players must have played for three or more clubs in the Premier League – Christian Atsu, for instance, isn't a right answer despite being previously being registered four sides (Chelsea, Everton, Bournemouth, Newcastle), since he's only played for two of them. 
See how many you can get in quarter of an hour, and let us know how you get on at @FourFourTwo – you might just make our daily Twitter leaderboard…
READ THIS… Ranked! The 20 worst Premier League teams ever – by points total
More time-killing football quizzes you'd love on FourFourTwo.com
Quizzes, features and footballing fun
Get the best features, fun and footballing frolics straight to your inbox every week.
Thank you for signing up to Four Four Two. You will receive a verification email shortly.
There was a problem. Please refresh the page and try again.