YOUR Premier League club's most important player for 2017/18
Who's the main man for each Premier League team this season; the player most crucial to each club's hopes? Seb Stafford-Bloor explains each choice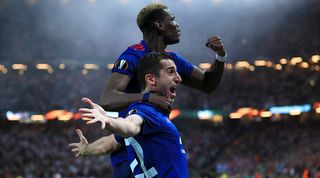 Arsenal: Alexandre Lacazette
What Arsenal will be in 2017/18 is difficult to know. At the time of writing, Arsene Wenger is yet to convince anyone that Alexis Sanchez is really staying. If the Chilean does see out the final year of his contract then obviously he will be tremendously valuable. So too will Mesut Ozil, who remains a player of the highest calibre.
But in Lacazette, Wenger finally has a blue-chip goalscorer. He might not belong within the premier group of elite European forwards, but he does score goals - lots of them. Only twice over the last 10 years has an Arsenal forward scored more than 30 goals (all competitions) in a season - Robin van Persie in 2011/12, Sanchez in 2016/17 - so Lacazette could potentially be a real variable.
He moves well off the ball, works hard out of possession and his diversity of goals is very broad. With the range of supply behind him, he should do very well.
Arsenal finished fifth last season and were outscored by every team above them. This transfer comes at an important time and should go some way to making up that shortfall.
Bournemouth: Nathan Ake/Asmir Begovic
A tie, because both new signings were made to target the same problem: Eddie Howe's porous defence.
Bournemouth conceded just one fewer goal than Sunderland in 2016/17, and that their back five remained largely unchanged since their promotion was, respectfully, an issue.
Still, it's one which is being attacked. Begovic is an outstanding addition and still one of the best goalkeepers in the division, while Ake not only raises the talent level of the defence but could potentially allow it to adopt a different shape. Comfortable at centre-back and full-back, but also within a back four or three, he brings a versatility and quality which Howe desperately needed.
Brighton: Anthony Knockaert
History teaches us that newly promoted teams rarely succeed by trying to grind their way to safety. They can't be reckless, of course, and Brighton won't be under Chris Hughton, but they will have to be moderately ambitious to survive.
Knockaert is their best player, the one who will instantly belong within the Premier League. Glenn Murray's goals were a big part of their promotion and he will have to reach double figures again, but Knockaert is the one who will frighten top-flight defenders. An elegant ball-carrier with upper-body strength which belies his light frame, he and his left foot will cause all sorts of chaos.
Burnley: Andre Gray
Burnley's inability to score goals last season nearly cost them their Premier League place. The only three teams that scored fewer goals were all relegated.
Gray is an interesting player. Nine league goals was a decent return for a forward experiencing the top flight for the first time, but around those strikes was the evidence that he's capable of much more. Think, for instance, of his twist-and-hit at Swansea.
Supply is a problem. Burnley didn't necessarily struggle in front of goal because of profligate finishing, but rather because their attacking patterns were formulaic; there was nothing subtle to their threat. If that can be remedied, though, and if Gray can diversify his game and vary his runs accordingly, all will be well at Turf Moor.
Chelsea: Eden Hazard
Unoriginal, but still true. Antonio Conte has built a highly structured side which likes to grind opponents down by attrition and pin them within their own half. The wing-backs are a very important part of that, Alvaro Morata will need to score goals, and Tiemoue Bakayoko's partnership with N'Golo Kante will certainly be interesting. But Hazard poses the unique threat.
He obviously greases the gears of Chelsea's counter-attack, a really underrated part of their game, but he'll be responsible for creating the incisions against teams who choose to sit deep. Seasons come, seasons go, but still nobody has a proper answer to the threat he poses.
Crystal Palace: Wilfried Zaha
Frank de Boer was a left-field appointment (perhaps also a study into how quickly and unfairly a manager's reputation can be re-evaluated) and Palace have made some interesting signings. They've needed a new centre-half for some time and Jairo Riedewald has ticked that box, while prospect-in-perpetuity Ruben Loftus-Cheek has also arrived.
But ultimately, looking beyond Zaha would be contrary. He's their best player and the one capable of hurting opponents the most. The great success of this window has been Steve Parrish's nous in pricing his biggest asset out of a move and, inevitably, Zaha's fitness and form will go a long way to defining the tone of the season ahead.
Everton: Jordan Pickford
Everton haven't enjoyed good goalkeeping for years. In fact, it hasn't really been a true strength since Neville Southall was at his peak.
Over the summer, Ronald Koeman has made important additions in every department, but Pickford is the master brick. He's an outstanding shot-stopper, a prerequisite, but he's also a vocal figure too and the organisation and authority he brings to the role will be essential to creating some stability behind a reconstructed defence.
Huddersfield: Aaron Mooy
Premier League audiences might well have seen Mooy for the first time during the 2016 Championship play-off final. It wasn't a day for creation or flair, being an agonising struggle of a match, so better to reserve judgement.
Huddersfield are the weakest of the promoted teams and they will have to lean heavily on Mooy if they are to survive. Athletically he's not the most impressive and might struggle with the pace of a higher division, but the quality of his distribution should allow him to belong and his set-piece delivery will be particularly important.
Leicester: Wilfred Ndidi
Perhaps chastened by the expensive blanks they fired a year ago, Leicester have remained relatively quiet over the summer. Harry Maguire and goalkeeper Eldin Jakupovic have been signed from Hull, and defensive midfielder Vicente Iborra has joined from Sevilla. It's also anticipated that Kelechi Iheanacho will eventually sign, but for the moment much remains as it was.
Wilfred Ndidi, therefore, should grow to prominence. The Nigerian's first season was characterised by two wonderful goals, but those were welcome anomalies rather than true depictions of style.
He's a force in central midfield and, frighteningly, won't even turn 21 until December. Leicester will depend on Kasper Schmeichel, on the new centre-back pairing in front of him, and - naturally - on the goals of Jamie Vardy, but Ndidi's performances will define the steadiness of their footing in games.
Liverpool: Sadio Mane
Even with Mohamed Salah's arrival from Roma, Mane still brings the essential thrust. With him they are cutting, dynamic and extremely difficult to contain; without him Jurgen Klopp's side are often sluggish and predictable.
Salah should dilute his importance slightly, because there's a stylistic overlap between the two, but losing Mane for any great length of time would still be a disaster. Liverpool depend on the penetration he provides and they are an entirely different proposition when he plays.
Manchester City: Kevin De Bruyne
Here's a theory: De Bruyne is the most dangerous attacking player in the Premier League. It's a big claim, but supported by the variety of threat that the Belgian poses. Rather than depending on specific traits or habits, there's a breadth to De Bruyne's skill set which makes him extremely difficult to nullify.
The curiosity, then, lies in what he might be able to achieve from within a properly balanced Manchester City team. We know he's gifted, we know that he's one of the most entertaining players in the country, but what would he be capable of if surrounded by truly complementary parts? He's never had that, either at Wolfsburg or City, but he might do now: Pep Guardiola has spent big and productively, curing all kinds of weaknesses and creating a stage for the Belgian to shine.
He's only seventh-favourite to be the player of the year, but if Guardiola's team adds up to the sum of its spending and wins the title, he will almost certainly be a contender.
Manchester United: Henrikh Mkhitaryan
Take his Europa League final goal and scorpion kick at Old Trafford out of Mkhitaryan's first season in England and it would have been a crushing disappointment. A victim of Jose Mourinho's pragmatism, he was a poor imitation of the player he often was for Borussia Dortmund.
United and Mkhitaryan need more from each other. Mourinho has built an expensive yet clunky forward line, and for the Armenian to shine there will likely need to be a shift towards a higher tempo. He needs space and he thrives in broken field situations. Similarly, though, if they are ever to be more than a by-the-numbers, lots-of-famous-footballers team, he will need to bring far greater dynamism than he has to this point.
United's league position will depend on Romelu Lukaku's goals, David de Gea's saves and Victor Lindelof's adjustment to English football - but their aesthetics will be defined by Mkhitaryan.
Newcastle: Jonjo Shelvey
Newcastle haven't done enough this summer. As per the reported friction between Rafa Benitez and the board, they haven't definitively improved since their promotion. Jacob Murphy is certainly an interesting signing and Florian Lejeune adds numbers to the defence, but the emphasis would now appear to fall on players with Premier League experience.
Chief among whom is Jonjo Shelvey. A maddening prospect (still just 25), Shelvey's career has proven impossible to anticipate. He can look like a potential England international one month, a lower-league liability the next. Inarguably, though, he is a gifted passer and possesses the class to damage top-flight sides.
If Newcastle are to survive without any further transfer business, this is the season when he'll need to become more than just a tenuous theory.
Southampton: Oriol Romeu
Understandably, Mauricio Pellegrino has paused for thought on arriving at his new club. Despite being linked with a variety of names including - intriguingly - Luciano Vietto, Southampton have made just a single addition: defender Jan Bednarek. On the basis that the first team can and needs to be improved, Pellegrino, Les Reed and the recruiting department will have a busy August.
Within the incumbent set of players, Oriol Romeu is the pivotal figure. There are issues further forward, manifesting in the disconnect between the attacking midfielders and Manolo Gabbiadini, but - particularly with Virgil van Dijk determined to leave - the protection offered by Romeu and his ability to receive possession from defence both seem crucial.
Stoke: Jack Butland
To date, Mark Hughes has endured a torrid window. Darren Fletcher has arrived in the twilight of his career and Marko Arnautovic, Glenn Whelan and Jon Walters have all been sold. Talent-wise, Stoke are working at a net loss.
There are no real positives to take from pre-season, beyond - at a stretch - the retention of Jack Butland. Butland's 'future England No.1' thunder has been stolen somewhat by Jordan Pickford, but he remains the closest challenger to Joe Hart. Now recovered from injury, he will be pivotal during a season in which his club's Premier League status is very much at risk.
Swansea: Alfie Mawson
Mawson may not be the most modern defender and he isn't varnished with contemporary finesse, but he could still be a mighty presence. Leon Britton is club captain and a figure of enormous importance but, approaching the end of his career, will not be a 38-game player.
Mawson will have few problems filling the emotional void on the pitch. He's a fine defender, dependable on the floor and in the air, but he will also provide a set of intangibles which Swansea will need during what will likely be another struggle.
Tottenham: Victor Wanyama
It would be easy to present Harry Kane, Toby Alderweireld or Mousa Dembele as being key to Spurs' chances, but Wanyama was probably their player of the season in 2016/17. Look back on any big game that Mauricio Pochettino won last year and you will likely see the Kenyan at its centre.
In all likelihood, Tottenham's most important players will prove to be the missing ones which they didn't sign over the summer, but Wanyama is an enormous figure within their tiny squad. From March onwards, he had also conclusively disproven many of his assumed limitations too, and had become a prominent factor in his team's attacking phases. If he were to evolve at a similar rate this season, he'll end it as one of the finest midfielders in the division.
Watford: Will Hughes
There are more influential players at Vicarage Road. There are also those who will score more goals, win more tackles and make more clearing headers.
Hughes, though, should he become a regular, threatens to define the way they play. Marco Silva preaches quick, attacking football which depends on accurate and progressive use of the ball and so, with that in mind, his new midfielder is the perfect component.
He's been around for a while now and has been talked about as a Premier League prospect for years, but Hughes is still a whole lot better than most people assume. By the turn of the year, all being well, two questions will likely be being posed: why was he not at this level before and, more damningly for Derby, how did he only cost £8m?
West Brom: Jay Rodriguez
West Brom are coached by Tony Pulis, so don't really lend themselves to individual analysis. Pulis creates progress through units and blocks of players rather than isolated influence.
However, there's something intriguing to this transfer: at his best, Rodriguez is an honest, hard-working player who scores goals with smart bursts into the box and also poses a threat in the air. Typical, idealised pre-season logic though that may depend on, it's not hard to see how he could be successful at The Hawthorns and return to something approaching his 2014 form.
West Ham: Joe Hart
Another side who have suffered from substandard goalkeeping, West Ham need the kind of stability that Hart could offer. It's an obvious pick, but given what the team's issues have been over the past 12 months it's also fair.
Hart struggled in Serie A. He made a lot of mistakes and, over time, they clearly eroded his self-belief. However, he's returning to a league he knows and to a culture in which he belongs. That may not prove a quick fix for his career, but it will provide him a stable footing and his new side with a keeper who is - potentially - vastly superior and noticeably more authoritative than any they've had over the last decade.
Now read...
Quizzes, features and footballing fun
Get the best features, fun and footballing frolics straight to your inbox every week.
Thank you for signing up to Four Four Two. You will receive a verification email shortly.
There was a problem. Please refresh the page and try again.