9 Serie A stars who Premier League clubs should have eyes on in January
Ahead of the winter window, Blair Newman picks out a handful of Italy-based players who would suit a number of English clubs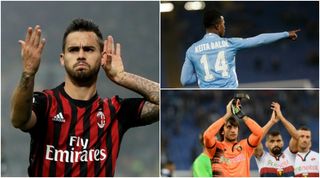 1. Keita Balde Diao (Lazio)
Lazio's resurgence this season has been fuelled by youth. With a fresh-faced head coach in Simone Inzaghi and a squad packed with promising young talent, the club's future looks rosy once again. And 21-year-old attacker Keita is arguably their brightest prospect.
The Senegal international is extremely versatile and can operate anywhere across the frontline, though his preference is still to cut in from the left where his skill and raw speed make him almost impossible to stop in one-on-one situations.
Let go by Barcelona as a teenager for putting an ice cube in a team-mate's bed, Keita has shown signs of increased maturity in 2016/17 with more consistent and substantive performances. Indeed, he's already equalled his career-best league goals tally of five.
Would suit:Manchester City, Arsenal
2. Antonio Rudiger (Roma)
Reportedly chased by Chelsea last summer, Rudiger's year was turned upside down after tearing cruciate knee ligaments in June. Not only did this temporarily rule out any chance of a Premier League move, but it also forced the German to miss out on representing his country at Euro 2016. However, following a period of recuperation he's now re-establishing himself at the heart of Roma's defence.
A powerful and wholehearted centre-back who combines pace and strength with improving technique, Rudiger is comfortable playing in a back three or four and has even taken on the right-back berth when necessary. His flexibility and athleticism would make him ideally suited to an outside central defensive role within Antonio Conte's 3-4-2-1 system at Stamford Bridge.
Would suit: Chelsea, Manchester United
3. Mattia Perin (Genoa)
Due to the emergence of Milan's 17-year-old shot-stopper extraordinaire Gianluigi Donnarumma, Perin is no longer considered the heir to Gianluigi Buffon. Nonetheless, the Genoa goalkeeper remains one of the best in Serie A.
Beneath his long-haired rocker look, charisma and occasional eccentricity lies a genuinely reliable last line of defence. He may not fit in among the modern sweeper-keepers when it comes to his ability with the ball at his feet, but Perin is strong, committed, decisive and has exceptional reactions.
Would suit:Liverpool, West Ham
4. Milan Badelj (Fiorentina)
Croatian football has a habit of producing technically supreme central midfielders and Badelj is no exception. The Fiorentina man hasn't quite reached the heights of his more famous compatriots Luka Modric and Ivan Rakitic, but he's still deserving of greater recognition.
Intelligent off the ball and composed on it, the 27-year-old is a multifaceted midfield pivot. He's part tackler, part ball-player; a voracious worker who's also comfortable in tight spaces. There has been constant speculation over his future this season and, with his contract up in 2018, he could be available for a very reasonable fee of around £10 million in January.
Would suit: Manchester United, Leicester
5. Andrea Petagna (Atalanta)
Atalanta have a proud history when it comes to producing and developing young talent, with Petagna a prime example. Milan sold the 21-year-old in January, but after a loan spell with Ascoli he's found form for la Dea this term.
With a physique that would make the Incredible Hulk jealous, it would be easy to miscast the striker as a mere targetman. But far beyond his imposing presence, Petagna also possesses a highly sophisticated touch.
While a record of three goals in 14 league appearances doesn't exactly set pulses racing, it's his combination of the physical and technical, along with real tactical awareness, that would make him the ideal man for Premier League clubs in need of a quality all-rounder to lead the line.
Would suit: West Ham, Southampton
6. Lorenzo Tonelli (Napoli)
During his time with Empoli, Tonelli established himself as one of the finest centre-backs you've probably never heard of, fitting in nicely within Maurizio Sarri's possession-based style despite his more combative, rugged approach. It was therefore no surprise when he eventually followed the coach to Napoli over the summer.
Injury woes have since prevented him from making his debut for the Partenopei and, with intense competition for places coming from Kalidou Koulibaly, Raul Albiol and Nikola Maksimovic, his chances of regular football aren't particularly high. However, with his aggression, speed and sound passing, Tonelli would make a strong addition for most sides – particularly those who like to defend high up the pitch.
Would suit: Liverpool, Southampton
7. Suso (Milan)
For much of his career to date, Suso was recognised as a player with real style but little substance – his performances rarely reflected his abilities. This season, however, he's finally begun to tap into his vast potential.
Nominally he appears as a right winger for Milan, but in reality he operates more centrally between the lines. From this area he's scored five goals, two of which came in the derby against Inter, and assisted six, making him one of the most productive attackers in Italian football right now.
With a sumptuous left foot and wonderful close control, the 23-year-old ex-Liverpool man is very difficult to dispossess. He'd be perfect for Premier League sides needing a dose of creativity.
8. Antonio Barreca (Torino)
Before this season, Barreca had spent much of his career playing in Serie B; since the appointment of Sinisa Mihajlovic as head coach, though, the Torino left-back has enjoyed regular football at the top level for the first time.
While he's no gung-ho full-back, the sharp and incisive Barreca does enjoy a forward foray, and he's just as comfortable underlapping as he is overlapping thanks to his quick feet and technique. In addition, the 21-year-old is intelligent defensively.
Would suit:Bournemouth, Crystal Palace
9. Geoffrey Kondogbia (Inter)
Rewind two years and Kondogbia was one of the most exciting young central midfielders in Europe, courtesy of his ferocious ball-winning and explosive forward surges. Unfortunately, in the present he's yet to live up to the grand expectations that were set after he joined Inter in 2015.
The 23-year-old Frenchman, perhaps hindered both by playing in such a tactically stifling environment and by working with three different coaches inside 18 months – Roberto Mancini, Frank de Boer and Stefano Pioli – has appeared cumbersome and ineffective throughout most of his stay in Italy. However, he could undoubtedly do a job for a team that plays to his strengths.
A move to Leicester would make sense for all parties: Kondogbia relished playing in a counter-attacking Monaco side, while the Foxes could really do with an injection of defensive solidity and dynamism in central midfield.
Would suit: Leicester, Stoke
Thank you for reading 5 articles this month* Join now for unlimited access
Enjoy your first month for just £1 / $1 / €1
*Read 5 free articles per month without a subscription
Join now for unlimited access
Try first month for just £1 / $1 / €1