The 11 most memorable transfer swaps... and which club got the better deal
Amit Katwala recalls the game's most outstanding switch deals: including getting rid of Fabio Cannavaro and Ian Wright worth his weight in... weights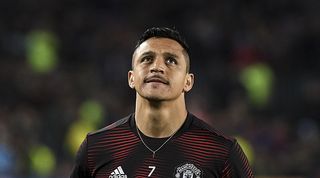 Andy Cole for Keith Gillespie + £6m
Manchester United and Newcastle
At the time, this just seemed proof that Alex Ferguson was losing his grip – this being the season (1994/95) when he shipped out a number of players who'd helped earn Manchester United's first league title since the days of Matt Busby.
It worked out OK – Cole went on to win pretty much everything going at United, although he is still maligned by some for perceived wastefulness in front of goal. While Cole was winning it all, and dabbling in music (opens in new tab), Gillespie was a key figure in the Magpies side that could never quite match United. He left Tyneside in 1998.
Winner: Manchester United
Zlatan Ibrahimovic for Samuel Eto'o + £35m
Barcelona and Inter
Pep Guardiola may be the sharpest manager in recent history, but he isn't much at the negotiating table if this deal is anything to go by. Eyebrows were raised when the Barcelona boss immediately dismantled the team that had won everything in 2009 – a straight swap would have just about made sense, but chucking in £35m on top of Eto'o really didn't. It was the kind of transaction that has you checking your receipt outside the supermarket.
Jose Mourinho's Inter were the beneficiaries – their Eto'o-powered side went on to win the Champions League the following year, beating Barcelona in the semi-finals. Ibrahimovic and Guardiola clashed spectacularly, particularly after that game, as the striker recalls. "Guardiola was staring at me and I lost it," he wrote in his autobiography. "I thought, 'There is my enemy, scratching his bald head!' I yelled to him, 'You have no balls!' and probably worse things than that."
Winner: Inter
Henrikh Mkhitaryan for Alexis Sanchez
Manchester United and Arsenal
Stop sniggering at the back there. There was a time when getting Sanchez for relative pittance would have been considered incredible business. Instead, he's now widely regarded as one of – if not the – worst signings in Premier League history. And that's no exaggeration: the Chilean's on-pitch performances have been woeful, and his eye-watering contract a huge problem.
Hardly surprising, since leaked information from Football Leaks revealed the following: Sanchez's basic wage is £391,000 a week, with a £75,000 bonus for every first team game he starts. He gets a £1.1 million annual signing-on fee. He could (but probably won't) earn £2m for reaching a combination of 40 goals and assists; £1m if United win the Champions League (!!!) and £500,000 for winning the Premier League (!!!). His team-mates know this, as do potential new arrivals. A disaster.
Winner: Arsenal
Fabio Cannavaro for Fabian Carini
Inter and Juventus
In 2004, Inter shipped out Italy's future World Cup-winning captain in a swap deal for Uruguayan goalkeeper Fabian Carini. Cannavaro went on to form part of the Old Lady's incredible defence in front of Gianluigi Buffon and alongside Lilian Thuram and Gianluca Zambrotta, before leaving to join Real Madrid after the Calciopoli scandal.
Carini struggled to break into the first team at Inter, making just four appearances for the club during a three-year spell, most of which was spent out on loan. Carini retired in 2016 due to chronic lumbar pain, while Cannavaro is the manager of Chinese club Guangzhou Evergrande.
Winner: Juventus
Roberto Carlos + £1m for Ivan Zamorano
Inter and Real Madrid
Chilean forward Ivan Zamorano was one of the mostly coveted strikers in Europe in 1995, having fired 28 goals in 38 games to help Real Madrid win the Liga title. But he found himself sidelined by the emergence of Raul, and left for Roy Hodgson's Inter in exchange for left-back Roberto Carlos.
The Brazilian would establish himself as one of the best left-backs in the world, and although Zamorano was far from a failure, he is probably best remembered for putting a plus sign between the 1 and 8 on his shirt to make a 9. Unforgivable.
Winner: Real Madrid
Francesco Coco for Clarence Seedorf
Milan and Inter
You can see the Ibrahimovic deal as Inter finally getting a swap deal right after a number of disasters. In 2002, they allowed double Champions League winner Clarence Seedorf to join their red-and-black rivals in a trade for defender Coco, who had once been labelled the next Paolo Maldini but was more interested in off-field distractions and retired aged 30 to try to crack Hollywood.
Seedorf won two more Champions Leagues and two Serie A titles with Milan. Coco is rumoured to be working as an estate agent.
Winner: Milan
Ashley Cole for William Gallas + £5m
Arsenal and Chelsea
Neither of these players left their clubs on particularly friendly terms – with Gallas in particular reportedly threatening to deliberately score own goals if he wasn't allowed to leave (something he refuted to FFT), so you can see why Arsenal were keen to snap him up. After he arrived in 2006, the centre-back fell out with team-mates and despite being captain, once sat down in the centre-circle in an epic sulk after a draw with Birmingham.
Cole, on the other hand, was a fixture at left-back for the Blues, winning the league, four FA Cups and the Champions League. He did also shoot a work experience kid with an air rifle, though, so swings and roundabouts.
Winner: Chelsea
Jermain Defoe for Bobby Zamora + £7m
Tottenham and West Ham
A rare swap deal that worked out pretty well for all parties. Defoe had been part of the absurdly talented West Ham side that were relegated with the highest points total in Premier League history, so it was no surprise that he found a suitor in Spurs in 2004. He banged in 22 goals in his first full season at White Hart Lane, and has hardly stopped scoring since.
Zamora was less prolific for West Ham, but he did score the winner in the play-off final that sent the Hammers back into the top flight (he would repeat the feat for QPR).
Winner: Tottenham
Ricardo Quaresma + £13.2m for Deco
Barcelona and Porto
Artful midfielder Deco was highly coveted in the summer of 2004, having helped Porto win the Champions League and Portugal reach the final of Euro 2004. He opted to join Barcelona, with compatriot Ricardo Quaresma – who had been in a very similar position a year earlier – going the other way along with €15m (£13.2m).
Quaresma had spent a year in Catalonia, but clashed with boss Frank Rijkaard and struggled to fulfil his potential back at Porto too. Deco won two La Liga titles, two cups and the Champions League at Barça.
Winner: Barcelona
Nemanja Matic + £20m for David Luiz
Benfica and Chelsea
Chelsea's policy of hoarding every promising youth player does lead to some odd transfer dealings. The Blues traded no-nonsense midfielder Matic for centre-back Luiz in 2011, who had been a key player for Benfica, but is very much the opposite of Matic in every possible way.
Matic would rejoin Chelsea after an impressive spell with Benfica, playing alongside Luiz (who had left to join PSG and then came back) in their Premier League-winning campaign of 2016/17. Matic is now at Manchester United, while Luiz remains at Chelsea in a much more restrained role than before, which is a pity.
Winner: Chelsea
Ian Wright for some weights
Crystal Palace and Greenwich Borough
Now read...
The 10 most exciting Premier League players under the age of 23
6 Premier League signings who bounced back to star in their second season
Clinical striker Ian Wright was playing for semi-pro Greenwich Borough for £30 a week when he was scouted by Crystal Palace in 1985. Instead of cash, the Eagles took a look around their training ground and offered the non-league side a set of weights in exchange for Wright.
This was the first in a long line of odd barter deals – other trades for players have included tracksuits, sausages, paint, the player's weight in shrimps and a freezer full of ice cream. Wright would go on to score 117 goals and was voted Palace's player of the century. The whereabouts of the weights are unknown.
Winner: Crystal Palace
While you're here, why not take advantage of our brilliant subscribers' offer? Get 5 issues of the world's greatest football magazine for £5 – the game's greatest stories and finest journalism direct to your door for less than a pint in London. Cheers!
NOW READ
QUIZ! Can you name the 44 teams Frank Lampard played against in the Premier League?
REVEALED Which Premier League teams have the easiest – and hardest – starts to the 2019/20 season?
Thank you for reading 5 articles this month* Join now for unlimited access
Enjoy your first month for just £1 / $1 / €1
*Read 5 free articles per month without a subscription
Join now for unlimited access
Try first month for just £1 / $1 / €1