Ranked! Real Madrid's 23 Premier League signings, from worst to best
David Beckham, Cristiano Ronaldo – and now Eden Hazard, too. The Belgian aside, Thore Haugstad ranks all of Real Madrid's other Premier League signings over the last 20 years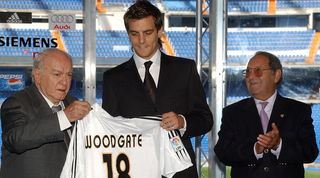 23. Jonathan Woodgate
Dogged by injuries, Woodgate had only played 37 games in 18 months for Newcastle when Madrid shelled out £13.4m for his services in 2004. He was even injured on the day he signed. Rather than recovering swiftly, he remained sidelined for a year, and only debuted in September 2005.
The worst was yet to come. Initially roared on by an optimistic Bernabeu crowd, Woodgate proceeded to steer a shot into his own net on 24 minutes. He then managed to get sent off for two bookings, capping the mother of all nightmare debuts.
Admirably, he fought his way back into the side, but injuries struck him down again. By August 2006, Madrid's patience had run out and they loaned him out to Middlesbrough, who later made the deal permanent. In total, Woodgate played 14 games in three years – and in a 2007 poll, readers of Spanish sports daily Marca voted him the worst signing of the 21st century.
Verdict: Started horribly, went downhill from there
22. Nicolas Anelka
At 20, Anelka had already forged a reputation as a difficult character, but that didn't deter Madrid from spending £23m on him in the summer of 1999. The ex-Arsenal striker failed to settle off the pitch, and things didn't go much better on it: he didn't score in the league until February.
He also managed to fall out with the affable Vicente del Bosque, which got him suspended from training. After two goals in 19 league games, Madrid moved him on to Paris Saint-Germain.
Verdict: Not at all worth the trouble
21. Julian Faubert
When you can't hold down a starting spot at West Ham, the last thing you expect is for Madrid to come in for you. But in January 2009, Juande Ramos needed a back-up winger and duly sanctioned a shock loan deal for the Frenchman. "His agent should be knighted by the Queen," Paul Merson quipped.
The six-month stint would go down in Madrid lore, largely because Faubert was accused of falling asleep on the bench in a game against Villarreal. He later denied it, telling FourFourTwo he'd just closed his eyes because he was bored (that's all right, then).
Faubert also missed a Sunday training session because he thought he had the day off. "The boy just got confused, nothing more," Ramos said. Having featured for 52 minutes in total, he soon returned to London.
Verdict: Comedy gold
20. Thomas Gravesen
In January 2005, Gravesen had six months left on his Everton contract when his agent told him he had been contacted by Madrid. "I told him to stop joking," Gravesen recalled. "Seven days later, it was done."
Madrid needed a holding midfielder behind Zinedine Zidane and Luis Figo. Gravesen was used to a more advanced role, but while he did a decent job anyway, he became more known for his overly rough style and his peculiar ways of shouting and joking on the pitch. By far his greatest legacy was the 'Gravesinha' – a bizarre move fondly recalled in many a Madrid bar since, in which he feigned a pass by touching the ground with his left knee (which then started to bleed).
Gravesen lasted 18 months. In August 2006, a training-ground bust-up with Robinho saw him sold to Celtic.
Verdict: No hit, but a figure of fun
19. Lassana Diarra
In late 2008, Diarra swapped Portsmouth for Madrid in a £20m deal to replace the injured Mahamadou Diarra. The defensive midfielder, who was somehow handed the No.10 shirt, was in and out of the team before moving to Russian outfit Anzhi in 2012.
Verdict: Overly expensive
NEXT... Poor Mo
18. Emmanuel Adebayor
The Manchester City striker joined on a six-month loan deal in January 2011 to stop Jose Mourinho moaning about a lack of options up front. Usually a sub, he struck eight goals – two of those against Tottenham – but generally had little impact.
Verdict: A forgettable spell
17. Michael Owen
With a year to go on his Liverpool contract, Owen jumped at the chance to play with Ronaldo, Zidane, Raul and David Beckham by sealing an £8m move in 2004. A slow start segued into a hot streak that eventually put him on 13 league goals in his first campaign, but he never dislodged Raul and Ronaldo, and it hardly helped that he spent most of the year holed up in a business hotel.
Verdict: Never really took off
16. Jerzy Dudek
The Polish goalkeeper arrived in 2007 after being released from Liverpool, despite knowing he'd be second choice to Iker Casillas. He played two league games in four years, yet became a popular figure and left through a guard of honour in his final game.
Verdict: Made up the numbers
15. Michael Essien
A Jose Mourinho favourite, Essien joined on a season-long loan in 2012, having struggled with injuries at Chelsea. The Ghana midfielder became a useful utility player, often filling in at right-back, and certainly deserved better than seeing just two team-mates turn up to his 30th birthday party.
Verdict: Did a job
14. Gabriel Heinze
Alex Ferguson, with whom Heinze fell out, claimed Madrid only signed him to lure his friend Cristiano Ronaldo away from Manchester United – but the £6.8m signing played his part in their 2008 title win.
Verdict: Decent enough
13. Javier Hernandez
A deadline-day loan arrival in 2014, Chicharito played second fiddle to Karim Benzema in Carlo Ancelotti's ill-fated second year. The Mexican striker scored just nine goals, but one of them settled the Champions League quarter-final clash against Atletico Madrid.
Verdict: Worth it for that goal alone
12. Jose Antonio Reyes
Swapping clubs with Julio Baptista, Reyes left Arsenal for Madrid in a year-long loan deal. The winger did little until the final day of the season, when he scored twice in a 3-1 win over Mallorca that snatched Madrid the 2007 league title ahead of Barcelona on head-to-head record.
Verdict: Turned up when it mattered
11. Ricardo Carvalho
Carvalho followed Mourinho to Madrid in 2010 and proved good value for his £6.7m fee, becoming a regular in his first year. Injuries ruined his second campaign and his third year was mostly spent on the bench, before Jorge Mendes moved him on to Monaco.
Verdict: Cheap, loyal, dependable
10. Thibaut Courtois
Will surely move up this list, but right now it's still too early to say anything other than than Real Madrid got themselves a steal to land one of the world's best goalkeepers for just €35m. In context, Chelsea had to fork out over twice as much to find an inferior replacement.
Aged 27, Courtois could be Los Blancos' first-choice netminder for years to come.
Verdict: Bargain potential
9. Alvaro Arbeloa
A former stalwart of Madrid's B-team, Arbeloa returned to the club of his dreams in a £3.5m deal from Liverpool in 2009. Though rarely part of the best XI, his versatility made him useful. He also became a key Mourinho ally as the dressing room split, which went down well with the hardcore fans, who gave him a lavish send-off in his final game.
Verdict: Good value for money
8. David Beckham
Beckham couldn't have arrived at a worse time. The £24m acquisition from Manchester United came to symbolise the fall of the Galacticos, having joined just as Del Bosque and Claude Makelele were ushered out of the door.
Madrid won nothing in his first three years. Still, that was hardly Beckham's fault, and by the time he departed with a final-day league title triumph in 2007, his professional attitude had earned him popularity and respect.
Verdict: Did more than just sell shirts
7. Arjen Robben
The flying Dutchman delivered two decent seasons after arriving from Chelsea in 2007. He won La Liga in 2008, before Florentino Perez shipped him out in favour of Cristiano Ronaldo and Kaka a year later.
Verdict: Should never have been sold
6. Steve McManaman
In 1999, McManaman became the second Englishman to play for Madrid, after Laurie Cunningham two decades earlier. The ex-Liverpool winger, who arrived on a free, capped a fine debut season with a spectacular volley in the 3-0 Champions League final win against Valencia. Though eclipsed by Luis Figo in 2000, he stayed on until 2003, lifting two league titles and another Champions League.
Verdict: A valuable supporting act
5. Ruud van Nistelrooy
Fed up with Cristiano Ronaldo not giving him the ball at United, Van Nistelrooy fled to Madrid in 2006, where his predatory instincts propelled the team to back-to-back league titles. Nicknamed 'Van Gol', the Dutchman became the league top scorer in his first year with 25 goals. Injuries then slowed him down, but he left in 2010 with a superb record of 64 goals in 96 games.
Verdict: A steal at £10m
4. Gareth Bale
In his first season, Bale repaid part of his £85.3m fee with decisive goals in the finals of the Copa del Rey and the Champions League. The 'Cardiff Express' was also unstoppable in the title run-in of 2016/17, but perennial setbacks had continued to derail his hopes of prolonged runs in Zinedine Zidane's side.
He shot back with one of the great goals in last year's Champions League final history against Liverpool, however, but still remains less loved than he should be at the Bernabeu.
Verdict: Explosive on the big occasion
3. Xabi Alonso
A year after Rafa Benitez wanted him sold from Liverpool, Xabi Alonso became one of the first galactico signings for returning president Perez in a £30m deal. The playmaker continued doing what he had done at Anfield, boosting the midfield with elegance, intelligence and maturity. He crowned his four-year-spell with the club's 10th Champions League title.
Verdict: A class act
2. Luka Modric
As Spurs played hardball over his transfer fee, Modric missed pre-season and arrived out of shape in August 2012. He struggled initially, so much so that by early 2013, a Marca poll had voted him the worst signing of the year.
Yet after Ancelotti's arrival in 2013, the Croat became the ingenious fulcrum of the team and has remained so ever since. As others grabbed the limelight, he and Toni Kroos have been the ones who made the Madrid machinery run so smoothly. His Best FIFA Men's Player award in September 2018 and subsequent Ballon D'or was just reward for such consistency.
Verdict: Invaluable and underrated
1. Cristiano Ronaldo
What more is there to say? Even at £80m, he's been a bargain. Since 2009, Ronaldo struck 450 goals, become the club's record scorer, won five Ballon d'Ors and guided Madrid to four Champions League titles. He left in summer 2018 to Juventus, but nobody is touching him at the Bernabeu any time soon.
Verdict: High maintenance, but worth every penny
Thank you for reading 5 articles this month* Join now for unlimited access
Enjoy your first month for just £1 / $1 / €1
*Read 5 free articles per month without a subscription
Join now for unlimited access
Try first month for just £1 / $1 / €1
Get FourFourTwo Newsletter
The best features, fun and footballing quizzes, straight to your inbox every week.