Which footballer do you look like? FourFourTwo followers suggest their lookalikes
Spoiler: some of your mates are very mean for suggesting you look like these players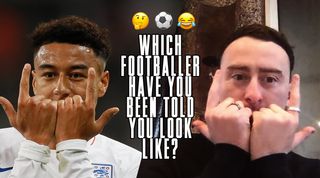 (Image credit: Future)
The thing about lookalikes is that it's often hard to see it yourself. You're so used to your own face that you don't see the resemblance when someone else says you look like a footballer. 
Even pundits fall foul of it. "He reminds me of a young Paul Scholes" is now the go-to for any promising midfielder who just happens to be ginger. "He has something of Peter Crouch about him" is wheeled out any time a striker is over 6'5.
SOCIAL Which footballer did you pretend to be in the playground? FourFourTwo readers have their say
So we put it out to the FourFourTwo Twitter following. Which footballer do they all resemble? Unfortunately, Ryan Gosling never replied to tell us he's the spitting image of Harry Kane.
The barely resemblant
We're with you on this one, Justin - you're far more handsome than Griezmann. Just don't grow your hair long and get braids, that's our advice.
Hmmm... for us, you're both just men with luscious long locks and great beards. Not much else similar.
The hair, admittedly, is similar. But the 20-year age difference means that this can only be a passing resemblance at best.
Either people are lying to you Reuben, or you're super tall with Peaky Blinders-style blond hair. It's plausible but these three blokes look very different. 
You could be related...
We're dealing with a shapeshifter here, ladies and gentlemen... 
You know you're cool if you had "Fernando Gago days". 
Yeah, definitely a resemblance, there. 
If you have half of Santi's swagger, you're one hell of a player, Jon.
We don't see it either, Aleksi - but who are we to argue with the algorithm?
Is there a better footballer to look like?
Every time Nelson Semedo scores from now on, we're going to be wondering if it's actually Owuraku masquerading as the Wolves man.
Top marks, Jo. Iconic. 
How's your American accent, Brian?
We're getting to the age now where everyone under 21 looks about 10. Illan Meslier could look like any number of the teenagers on the estate to us.  
The uncanny
If we were you Ben, we'd turn up to training at Paris Saint-Germain and see if Thomas Tuchel notices. 
Which one are you again, Billy?
If James Weir had actually made it at Manchester United, we're pretty sure this resemblance would get you into the VIP area at clubs, Marcus. 
It's like Alexandros himself is in the room with us. 
It might be "any other ginger footballer" George, but you do genuinely look a lot like Andre Schurrle.
Hopefully this is just where the similarity starts and you're a complete pantomime villain in 5-a-side games with your mates.
It's like Cesc Fabregas and Aaron Ramsey were combined in a petri dish. 
We love a niche lookalike.
You surely don't all look like David Beckham
Convenient how many people suggested they looked like the most attractive footballer to have ever existed... 
...and another one...
...another Beckham...
At least you're honest, Jonny. 
The self-deprecating
We actually remember the meme. Some may argue that this fella has aged better than Luiz himself, though.
Downhill? Kevin de Bruyne wishes he has this level of stateside fame.
We got a few tweets featuring Wayne Shaw.
Footballers come in all shapes and sizes, Jeff!
You had to use that photo, didn't you Michael?
Even if you weren't a goalkeeper, we'd have said you look like Mr. Becker, David. 
Boom boom. 
And finally...
This is the cutest thing.
While you're here, subscribe to FourFourTwo and save 48% – available until Christmas. It's the perfect gift idea for anybody who loves football (including yourself)!
NOW READ
AMAZON PRIME PREMIER LEAGUE GAMES How to watch 21 top-flight matches for FREE this December
RANKED! Every Premier League club's coolest sponsor
IN THE MAG Why is Dele Alli in Tottenham exile – and what is next for him?
Quizzes, features and footballing fun
Get the best features, fun and footballing frolics straight to your inbox every week.
Thank you for signing up to Four Four Two. You will receive a verification email shortly.
There was a problem. Please refresh the page and try again.