Revealed! The 20 best free-kick takers in European football
The data from our friends at STATS on the dead-ball specialists with the best conversion rate across Europe's top-five leagues: from the Argentine jewel to the Premier League's secret weapon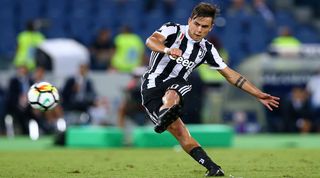 Please note: Data is correct as of January 23, 2018. Sorry, Lionel.
None
Note: data taken from STATS: players across Europe's top five leagues from the start of 2013-14 season (minimum of 20 attempts)
A free-kick in a certain region of the pitch always sends a frisson of excitement through the crowd, but who do you want standing behind the ball? STATS have crunched the numbers on every free-kick taken in Europe's top leagues since the start of the 2013/14 season to bring you the answer... which may surprise you.
Players have to be currently active to qualify, and must have had at least 20 attempts on goal from a free-kick. We'll run through the top 20, but first: some notable entries who, perhaps surprisingly, don't quite make the list.
Zlatan Ibrahimovic (Man United)
Goals: 4 • Attempts: 91 • Success rate: 4.4%
Goal from 1.05
It must be hard to argue with Zlatan, whose incredible self-belief and giant physique mean he gets to take more than his fair share of free-kicks, despite a fairly disappointing success rate. When they work, they're hard to stop though, as his effort in the 2017 League Cup final demonstrated.
Cristiano Ronaldo (Real Madrid)
Goals: 7 • Attempts: 112 • Success rate: 6.25%
Another player whose mere presence demands that you hand him the ball, although perhaps Gareth Bale (three goals from 36 attempts) can use these stats to argue his case the next time Real Madrid have a free-kick on the edge of the box. Although, as a counterpoint, Ronnie could just bring up his effort against Arsenal.
Lionel Messi (Barcelona)
Goals: 11 • Attempts: 165 • Success rate: 6.67%
The little Argentine is tied with Miralem Pjanic for the most free-kick goals scored in the last five years, but he's had more than twice as many attempts. His technique is based more on precision than power, but sometimes seems to break the laws of physics.
Hakan Calhanoglu (Milan)
Goals: 10 • Attempts: 99 • Success rate: 10.1%
The Turkish midfielder reportedly modelled his technique on Brazilian set-piece legend Juninho Pernambucano, and netted a series of stunners in the Bundesliga before moving to Milan in the summer.
Kevin De Bruyne (Man City)
Goals: 4 • Attempts: 35 • Success rate: 11.43%
If we were in charge at Manchester City, Kevin De Bruyne would take every single set-piece. It seems there's nothing the Belgian playmaker can't do. His free-kicks aren't quite as deadly as his passing, but he still finds the net better than once every 10 tries – and he had the cunning to slide one under Cardiff's wall in the FA Cup this January. Fiendish.
Alexis Sanchez (Man United)
Goals: 5 • Attempts: 42 • Success rate: 11.9%
Paul Scholes and Ryan Giggs famously scored a free-kick routine where they pretended to be squabbling over the ball, but the arrival of the fiercely competitive Sanchez means we could well see a real argument on the pitch when deciding who gets to take the Manchester United set-pieces.
Neymar (PSG)
Goals: 5 • Attempts: 41 • Success rate: 12.2%
We wouldn't be surprised if Neymar shoots up the charts during this season, as the numbers don't reflect the fact that he now scores about 15 goals per game in Ligue 1. Back at Barcelona, he had to tussle with Luis Suarez (four goals from 39 attempts) and Messi for the honours. Expect to see a lot more of the above.
Willian (Chelsea)
Goals: 4 • Attempts: 31 • Success rate: 12.9%
We're surprised Chelsea's Brazilian winger isn't higher up this list – maybe it's because the free-kicks he scores are so spectacular that they stick in the mind for a long time after the game. He shares his secrets with FourFourTwo in the video above.
Now read the top 20 starting here
Tied = 20. Suso (Milan)
Goals: 3 • Attempts: 22 • Success rate: 13.64%
Into the top 20 now, with an entry that may leave Liverpool fans scratching their heads. Spaniard Suso had a disappointing spell with the Reds under Brendan Rodgers, who loved bringing through the young players. It didn't quite work out for Suso, but he's now at Milan – and playing well enough to earn international honours.
Tied = 20. Gael Kakuta (Amiens)
Goals: 3 • Attempts: 22 • Success rate: 13.64%
Another short-lived blast from the past. Kakuta was the subject of a high-profile transfer controversy when he joined Chelsea, but failed to break through and went out on a series of loans. He's now on loan at Amiens from Hebei China Fortune (livin' the dream) and actually doing very well. He also takes a mean free-kick, as he's shown already this season.
Tied = 20. Wissam Ben Yedder (Sevilla)
Goals: 3 • Attempts: 22 • Success rate: 13.64%
The Sevilla striker is in a three-way tie for 20th spot with Kakuta and Suso. He doesn't take many, but when he does, they fly in (about 13% of the time). Plenty of clubs are rumoured to be eyeing the Frenchman after his prolific form in 2017/18, so it might be interesting to see if he takes over free-kick duties full time at a new side.
17. Wayne Rooney (Everton)
Goals: 4 • Attempts: 29 • Success rate: 13.79%
England's all-time leading goalscorer has enjoyed something of a renaissance in a struggling Everton side, seemingly thriving under Big Sam's tutelage (what might have been for England, eh?) One of Rooney's best efforts was the strike against Stoke which memorably took him past Bobby Charlton's Manchester United record in 2017.
16. Romelu Lukaku (Man United)
Goals: 3 • Attempts: 21 • Success rate: 14.29%
Add Lukaku to the growing list of potential Manchester United set-piece takers. The Belgian only just makes it past the 20-effort benchmark to qualify for this list, and to be honest we don't really remember him taking that many – but here's a guided effort for Everton to remind us all what he can do.
15. Yaya Toure (Man City)
Goals: 4 • Attempts: 28 • Success rate: 14.29%
Tied with Lukaku in terms of chances converted is Yaya Toure. The Ivorian doesn't get many outings these days for Manchester City, but can always be relied on to bend a delicate effort into the top corner in the last few minutes of a tight game.
14. Zlatko Junuzovic (Werder Bremen)
Goals: 5 • Attempts: 35 • Success rate: 14.29%
Austrian Junuzovic has netted some notable efforts from dead-ball situations for Werder Bremen. We like his clipped technique, a bit like a golfer trying to escape a sand trap.
13. David Alaba (Bayern Munich)
Goals: 6 • Attempts: 42 • Success rate: 14.29%
Another Austrian with an eye for goal from free-kicks. Full-back Alaba has won a number of admirers for his displays at Bayern Munich, and he's netted six goals for the German side. He's capable of both the swerving, Cristiano Ronaldo-style drive – which moves in the air like a plastic beach ball – and also more placed efforts.
12. Miralem Pjanic (Juventus)
Goals: 11 • Attempts: 76 • Success rate: 14.47%
Real Madrid are reportedly interested in bringing in the Bosnian to replace Toni Kroos. They'd probably score a lot more free-kicks if they make it happen. The midfielder made a name for himself with his set-pieces for Roma, and has continued that trend with Juventus.
11. Markus Suttner (Brighton)
Goals: 4 • Attempts: 27 • Success rate: 14.81%
Brighton have a secret weapon in defender Markus Suttner, the third Austrian to make our top 20 for free-kick conversion. He's yet to score for the Seagulls, who he joined in the summer, but did net a number of efforts for Ingolstadt. Not all Austrians are great at free-kicks though, as this botched routine painfully demonstrates - but Suttner clearly boasts a talent for it.
Tied = 10. Mauricio Lemos (Sassuolo)
Goals: 3 • Attempts: 20 • Success rate: 15%
Nobody in La Liga scored more free-kicks last season than the young Uruguayan centre-back. He netted three, including this fine effort in a 3-1 defeat against Eibar. He reportedly turned down Barcelona back in 2016, as he doubted that he would get a lot of playing time - but has now left Las Palmas to join Sassuolo in Serie A.
WATCH A free-kick a Ronaldo would be proud of from Mauricio Lemos
Tied = 10. Henri Saivet (Newcastle)
Goals: 3 • Attempts: 20 • Success rate: 15%
The 27-year-old midfielder has had a tough time of it since joining Newcastle in 2016, but he will always have one highlight to look back on. In December, he netted a fine, low free-kick in a 3-2 victory over West Ham, which helped move him up to joint-10th in this list. It wasn't enough to get him into Rafa Benitez's good books though: Saivet hasn't appeared in a league game since.
Tied = 10. Sejad Salihovic (Hamburg)
Goals: 3 • Attempts: 20 • Success rate: 15%
Bosnian veteran Salihovic has only just returned to the Bundesliga after spells in China and Switzerland, otherwise he would have undoubtedly netted more free-kicks in Europe's top five leagues. His technique is Beckham-esque, as he approaches the ball from an almost 90-degree angle to apply as much spin as possible.
7. Marvin Plattenhardt (Hertha Berlin)
Goals: 6 • Attempts: 37 • Success rate: 16.22%
The German full-back has netted six goals in the Bundesliga, all of them free-kicks. His efforts for Hertha and Nurumberg show an astonishing variety of technique from a powerful left foot. There's curl, guile and raw power. Either goalkeepers in the Bundesliga just aren't that good - or Plattenhardt just makes them look that way.
6. Federico Viviani (Verona/SPAL)
Goals: 5 • Attempts: 30 • Success rate: 16.67%
Deep-lying playmaker Viviani is the son of former Lazio player Mauro Viviani, but came through the youth system at Roma. The 25-year-old, who has been compared to Andrea Pirlo, is currently on loan from Verona at Serie A newcomers SPAL, where he has been demonstrating that he shares his compatriot's skill with a dead ball.
5. James Rodriguez (Real Madrid/Bayern Munich)
Goals: 6 • Attempts: 36 • Success rate: 16.67%
Frankly, it's amazing that Ronaldo, Bale et al have even let James take 36 free-kicks, bless him. The golden boy of the 2014 World Cup has an impressive hit rate with that gifted left foot, but he endured a tough time with the Spanish giants. However, the Colombian is now enjoying a new lease of life with Bayern Munich – and dinked in a fine effort against Bayer Leverkusen at the start of 2018.
4. Marco Alonso (Chelsea)
Goals: 4 • Attempts: 22 • Success rate: 18.18%
The Chelsea left-back has been a strong performer in Antonio Conte's side, and his free-kicks have won the Blues six points this season alone (and he notched another in the FA Cup against Newcastle too). He netted a fine effort against Spurs at Wembley back in August, and the winner against Southampton in December – although keeper Fraser Forster was perhaps culpable on that occasion. His best effort was the previous season, against Bournemouth.
3. Philippe Coutinho (Barcelona)
Goals: 5 • Attempts: 26 • Success rate: 19.23%
If his shooting success rate from open play was half as good as his aim from free-kicks, Philippe Coutinho would score 800 goals a season. Approximately. The Brazilian loves having a go from distance, and netted a memorable array of free-kicks for Liverpool before his drawn-out move to Barcelona.
2. Paulo Dybala (Juventus)
Goals: 8 • Attempts: 38 • Success rate: 21.05%
The 24-year-old Juventus forward has been linked with a move to Manchester United, and with an incredible success rate slightly better than one in five, might jump right to the top of their free-kick queue. His left-footed technique is more about power than placement – as demonstrated by this effort in a charity match where he scores against a 20-man wall.
1. Juan Mata (Man United)
Goals: 5 • Attempts: 22 • Success rate: 22.73%
Surprising, right? He might not spring to mind when you think of deadly free-kick takers, but it's Manchester United's Spanish midfielder who has the best conversion rate in Europe over the last five years. He generally takes the little deft efforts from the edge of the box, like the above beauty against Leicester.
After the game, Mata revealed the secret behind his success to MUTV in an exclusive interview. "You have to practise, especially set-pieces and finishing," he said, insightfully. He might not be able to tell you exactly how he takes them, but he definitely can take 'em.
Now read...
OFFICIAL The 16 lowest-scoring forwards in Premier League history
New features you'd love on FourFourTwo.com
Thank you for reading 5 articles this month* Join now for unlimited access
Enjoy your first month for just £1 / $1 / €1
*Read 5 free articles per month without a subscription
Join now for unlimited access
Try first month for just £1 / $1 / €1
Get FourFourTwo Newsletter
The best features, fun and footballing quizzes, straight to your inbox every week.