In the mag: Harry Kane exclusive interview! Chris Waddle! Jude Bellingham! PLUS Gretna's rise and fall! San Marino's England goal and MORE
Get your hands on the latest issue of FourFourTwo magazine – available in print or on your device – from Thursday 16 November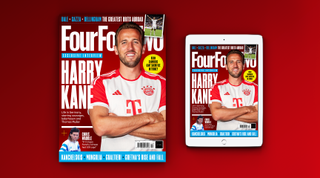 (Image credit: Future)
Order the new issue with free delivery here – just select 'December Issue 359'.
Subscribe to FourFourTwo today and save! You'll get 13 issues per year…
First a message from our editor, James Andrew:
If there were ever any doubts about Harry Kane's move to Bayern Munich, a goal from inside his own half at the end of October surely put any concerns to bed.
That audacious strike against Darmstadt didn't show any indication whatsoever of a player struggling with his new surroundings, weighed down by a hefty price tag around his neck. Kane is England's leading goalscorer and was on course to break Alan Shearer's all-time Premier League record before his switch to the Bundesliga.
And remember those faraway days when it was said that Kane couldn't score in August? Those days are long gone, illustrated by three goals in his first two league games for Bayern. By October 28, he'd scored 14 times, including two hat-tricks – even if Bundesliga bureaucrats appear to keep moving the goalposts over what qualifies as a hat-trick in Germany. It's not the same as in England, bafflingly.
All in all, he's doing pretty well, and seems to be settling in just fine off the field too, getting stuck into the Oktoberfest celebrations. It's a big 12 months for Kane, with the Euros in his new homeland next summer, so FFT caught up with the England captain for an exclusive interview to discover how he's finding life away from the Premier League.

Enjoy the mag.

James
Harry Kane exclusive interview
After 19 years at Spurs, He finally flew the nest this summer in search of silverware at Bayern Munich. He exclusively tells FFT why German football has given him goosebumps, and why Champions League glory is in his sights
Dean Saunders answers YOUR questions
"At Galatasaray, they slit a goat's throat in front of us, then handed everyone a cup of blood. I said to Brad Friedel, 'What's going on?'"
The Welsh striker covers the lot, from Turkish goat rituals, THAT Cloughie story and Robert Maxwell.
Brits Abroad
England has often been one of football's most attractive destinations, particularly in the Premier League era. But while plenty of foreign superstars have made a home on these shores, numerous British sensations have headed in the opposite direction. Here are the finest of them, ranked solely by their contributions overseas...
Exclusive Chris Waddle legend feature
"Michel Platini said that if Glenn Hoddle and I had been French, we would have both earned 100 caps"
From sausage seasoner to European Cup finalist with Marseille, Chris Waddle went from obscure factory worker to football's elite. He tells FFT how, via backheels, ballads and a ballistic Jack Charlton
Mongolia: out of the World Cup
Not even Mongolia's great warlord could have stopped the Blue Wolves being one of of the first sides knocked out of the 2026 World Cup. FFT were in Ulaanbaatar to see it – once a coach in the country, Paul Watson discovered why their hopes were dashed, via Bayangol, Blatter and Barnet.
Davide Gualtieri: Scottish hero
"At first, I didn't realise my goal against England only took eight seconds. It made me an idol in San Marino - and Scotland"

Three decades ago, Davide Gualtieri wrote his name into history by delivering the final insult to England's wretched qualifying campaign for the 1994 World Cup. In his own words, he shares how that goal from kick-off changed his life...
Gretna's marriage gone wrong
The Scottish border town beloved by elopers witnessed three consecutive promotions to the top flight and UEFA Cup qualification, but by 2008 the Anvils suffered the early death of their benefactor – as the club was liquidated.
Why Son is shining at Spurs
Who knew life after Harry Kane would be so chirpy for Spurs? FFT's tactical guru reveals how their South Korean star's role under 'Big Ange' worked wonders in the North London derby...
Nuno Gomes' Perfect XI
The former Portugal and Benfica forward selects a side full of Seleção heroes with a pair of Ballon d'Or winners leading the line. Not bad, then...
Around the grounds in the EFL, non-league and Scotland
Veteran Hibs poacher Adam Le Fondre chatted to us about scoring in each of the top four English leagues, Bolton's great escape and happy days with Reading.
Remember Watford's Darius Henderson? After quitting football in 2017, the striker took up mountaineering – he tells how he plans to conquer Everest.
Lifelong Terrier Marcus Middleton looks back at Huddersfield Town's Wembley delirium, Mooy magic and Felix Magath's tea boy.
Soccer Slammers is a frankly inspired series of creations on social media, depicting football stars as wrestling action figures. We investigate Big Nige's stuffed ostrich and Brucey's cabbage.
Southend fans feared for the mismanaged club's existence in October, but a late takeover bid gave them hope. Antipodean businessman Justin Rees' six-man consortium looks to have saved the club from liquidation.
The Mixer
Each month we round up the best football kit, fashion, art, design, books and tech. In the basket this month: Bellingham's boots, a robot footballer, big Ange's watch and a St Pauli toaster.
Seen something you want to put in The Mixer? DM Deputy Editor Matt Ketchell on Instagram
Upfront
Playing off the last defender, it's the big-man little-man partnership of football and funnies...
We pay tribute to the incredible life of Sir Bobby Charlton by digging through our archives of images of the great man.
Izzy Christiansen talks over the games that changed her life: beating Barca, Birmingham and a particularly sweet late winner against those pesky Americans.
Our 18-question quiz features puzzlers on butchers, shootout records and Olympic champions.
FFT columnist Jules Breach explains why Chelsea and Poch are a perfect match...
Meanwhile in Saudi Arabia, Al Nassr fans created a banner for their star man: Javier Hernandez?! In Norwary they're making banners of managers as rats with the word 'Judas' on their forehead, holding a bag of money. While K-pop group STAYC caused confusion when they performed at a recent concert in Texas – donning the 1996-97 shirt of Walter Smith's Rangers.
Renowed football commentator and York City fan, Guy Mowbray, pairs Zizou with Paul Barnes and recalls accidentally kicking a croaked seagull...
FourFourTwo Deputy Editor Matt Ketchell and Editor James Andrew wonder, 'Should VAR be scrapped entirely?' and thrash the topic out in this month's Debate Column.
Senior Staff Writer Chris Flanagan has been suffering from TV subscription overload while trying to watch the football. So much so, he's learning Welsh. Read why in his Opinion Column.
In the Players Lounge this month...
A hat-trick of former Prem players. Andrei Kanchelskis, Ryan Shawcross and Mikkel Beck are in the FourFourTwo players' area this month. Andrei recalls bust-ups with Alex Ferguson (of course) and being threatened by Uzbeki gangsters (of course). Ryan explains why he wishes he'd never received an England cap and Mikkel tells us about Bosmans, balling with Paul Merson and Boro's 'anti-treble'.
Subscribe to FourFourTwo today! Guarantee the finest football stories and interviews dropping on your doorstep every month.
Get FourFourTwo Newsletter
The best features, fun and footballing quizzes, straight to your inbox every week.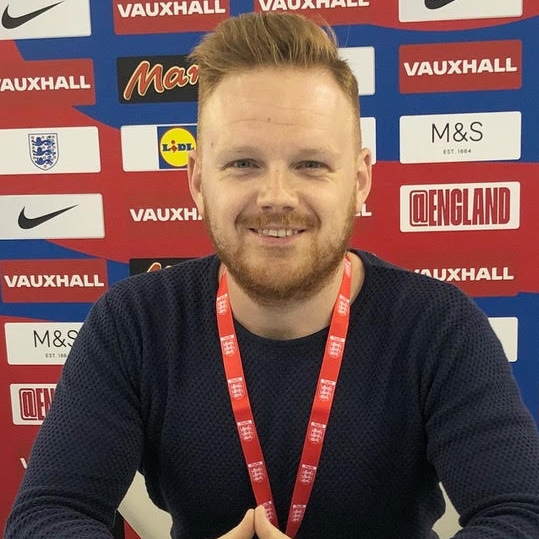 Ketch joined FourFourTwo as Deputy Editor in 2022 having racked up appearances at Reach PLC as a Northern Football Editor and BBC Match of the Day magazine as their Digital Editor and Senior Writer. During that time he has interviewed the likes of Harry Kane, Sergio Aguero, Gareth Southgate and attended World Cup and Champions League finals. He co-hosts a '90s football podcast called 'Searching For Shineys', is a Newcastle United season ticket holder and has an expensive passion for collecting classic football shirts.