Ranked! The best left-backs in the world right now
There's more to being a defender than just defending – the best left-backs are proof of that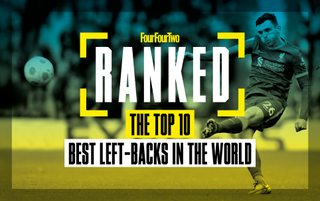 (Image credit: Future)
To describe someone as one of the best left-backs used to be damning them with faint praise. Left-back used to be where you'd stick the worst player on the team. No left foot, no problem - left-back was the spot for anyone who didn't have a specific job on the team.
Well, times have changed. Fullbacks are no longer the forgotten men. Indeed, some of the players on this list are integral to the way their club and country set up. Not just defenders, but also invaluable attackers, creators, scorers, set-piece takers and jacks of all trades.
So, without any further ado, here are the 10 best left-backs on the planet.
LISTS Ranked! Who are the best players in the world in every position?
10. Luke Shaw (Manchester United)
The last time we did this list, shortly after last summer's Euros, Shaw was in our top three. The Manchester United man had just starred at the tournament, scoring in the final, after a stellar club campaign. The defender has failed to match those heights this term, as the entire Red Devils side has laboured under successive coaches, yet just retains his place on this list due to the strength of his performances when on form.
Injuries and exhaustion appear to have taken their toll on a player who has often struggled with his fitness in the past. A summer off should do him the world of good ahead of this winter's World Cup.
9. Sergio Reguilon (Tottenham)
The Spurs man has struggled to maintain consistency since joining the north Londoners in 2020, with Jose Mourinho and Nuno Espirito Santo's terms ravaged by poor defensive displays. In recent months, though, under the tutelage of Antonio Conte, Spurs look a more solid side and Reguilon has played a crucial role in that. His touchline hugging displays add width to a flank which often sees Son-Heung min cut inside to run beyond Harry Kane in central areas.
7. Raphael Guerreiro (Borussia Dortmund)
Few left-backs in world football boast the footwork, first touch and finishing of the Guerreiro, with teammate Jude Bellingham informing FFT in 2021 that Guerreiro has impressed him more than any other player since joining the club. Four goals in 17 Bundesliga appearances this season is an exceptional contribution for a full-back, and Dortmund will be hoping he can stay fit after fitness issues earlier in the campaign.
7. Ferland Mendy (Real Madrid)
Having to fill Marcelo's boots is not a fate you'd wish on your worst enemy. Yet Ferland Mendy has shown he has all the ingredients to help take Real Madrid into a new era. No, he doesn't have the jaw-dropping samba-magic of Real Madrid's no.12, but he makes up for that with defensive intelligence and extreme physicality.
Mendy is lightning quick and reads the game well. He needs to work on the attacking side of his game - particularly his crossing - but there are few better defenders on this list.
6. Alphonso Davies (Bayern Munich)
When fit, Davies is a top three left-back, without question. But an injury-ravaged season has forced him down this list. A heart condition has contributed to the 21-year-old making just 16 league appearances for Bayern this term, and he remains a long way from fitness still...
Nicknamed "Roadrunner" by his teammates, Alphonso Davies broke the Bundesliga sprint speed record in June 2020, clocking an eye-watering 36.51 km/h (22.6 mph). The Canadian is lightning quick, possibly the quickest player in world football, but there's more to his game than speed.
A natural winger - Davies still plays in a more attacking role for his country - he's a serious threat going forward. His movement and dribbling are world-class, meaning defenders often find themselves overwhelmed when he advances to join Leroy Sane down Bayern's left flank. This, in turn, allows the German to move inside and cause havoc in the box. Davies is a solid defender too, with one on ones rarely resulting in his opponent coming out on top. On the rare occasion he is beaten, Davies has the speed to recover and win the ball back.
5. Kieran Tierney (Arsenal)
Arsenal's revival under Mikel has been built, as all revolutions are, on a solid defence. The introductions of Ben White, Aaron Ramsdale and Takihero Tomiyasu have made the world of difference, but the calm leadership of Tierney on the left has been key to getting those players up to speed.
The Scotsman is feisty, diligent, great in possession and is also happy to help out at centre-back when required. He's a proper defender, and Arsenal would be less assured without him.
4. Jordi Alba (Barcelona)
Once the gold standard for European left-backs, Alba's star has fallen slightly in recent seasons. In truth, though, that has as much to do with Barcelona's decline as a true European superpower than anything he's done personally.
The Spaniard remains his usual blend of speed, composure, final product and dazzling footwork, as evidenced by his seven assists in La Liga this season. At 33, Alba's coming to the end of his career, but his technical ability means he'll still be capable of playing at the top level for a few seasons yet. He remains a key figure in Xavi's Camp Nou revolution.
3. Theo Hernandez (AC Milan)
The standout left-back in Serie A last season – Hernandez contributed to nine league goals for AC Milan last campaign (four goals and five assists) – and he's hit the same heights this year, too. The Frenchman has racked up 11 goal contributions in all competitions as Milan lead the way in Serie A.
Arguably the best dribbler on this list, the Frenchman is a joy to watch when in possession, taking on players and helping to overload opposition defences.
2. Joao Cancelo (Man City)
In a recent interview with FourFourTwo, West Ham winder Jarrod Bowen said all you need to know about the Man City and Portugal defender.
"Cancelo has been the toughest opponent I've faced in the Premier League," said the Englishman. "You wouldn't have him down as much of a defender as he does so much attacking and creates so much. But one on one, he's so hard to get past. I don't think people realise how quick he is either. He can fly past you down the wing and he's hard to catch. The threat he's got as well as a full back is incredible. He's the best, for me."
Few players on the planet are as adaptable as Cancelo, who can occupy right- or left-back with equal aplomb. He's good on the ball, a great passer, an intelligent defender and a leader on the pitch. He's a sensation.
1. Andrew Robertson (Liverpool)
Jose Mourinho famously said he got tired "just by looking at Robertson'' and that workrate has been on display again this season, as he's helped drive Liverpool into a title challenge. It's certainly true that you never get less than 100% from the former Hull City man.
The Scotland captain has arguably the best delivery of any player on this list. His crossing, even at full sprint speed, is rarely anything less than pinpoint, making him a valuable part of Liverpool's attack. He is quick, tenacious, a good passer and a vocal organiser at the back. His 10 Premier League assists this season place him just one behind partner in crime in the opposite flank, Trent Alexander-Arnold.
For a limited time, you can get five copies of FourFourTwo for just £5 (opens in new tab)! The offer ends on May 2, 2022.
Restock your kit bag with the best deals for footballers on Amazon right now (opens in new tab)
OTHER LISTS
CRESTS The 100 greatest ever club football badges
GROUNDS The 100 best football stadiums in Britain
Thank you for reading 5 articles this month* Join now for unlimited access
Enjoy your first month for just £1 / $1 / €1
*Read 5 free articles per month without a subscription
Join now for unlimited access
Try first month for just £1 / $1 / €1