The 50 most influential footballers of all time
A complete compendium of the most influential players ever who, regardless of era, background or skill level shaped the sport into what it is today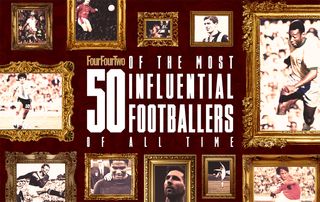 (Image credit: Future)
Football is crafted by a select few. Coaches, like film directors, have a vision of how to play the sport. It's up to players to execute those demands, like actors. And over the last century or so, there have been a plethora of footballers who have shaped football as we know it. Players these days are influenced by what came before.
Whittling down the 50 most influential players to football as we know it today is an almost impossible task, which may vary depending on who you ask and where. For our list, we collated a collection of players from a range of eras and backgrounds - and all of them have in some way or another had a huge part to play in the evolution of football.
We've got trendsetters. Some influenced tactics; hell, one or two even brought about whole law changes of the game. Others changed the way the transfer market - or the way that their country was viewed forever. Note: this is not a list of the greatest 50 players of all time - though there's a lot of intersection of the influential with the talented. This is a list of of the players who defined something in football: regardless of how good they were.
Of course, we chickened out of ranking how influential they were. Well, how can compare a 1950s Brazilian renegade with a business-savvy 21st Century counterpart? So here it is - the legacy list - of the half-century of footballers who helped build the game into what it is today.
The 50 most influential footballers of all time – in alphabetical order
1. Viv Anderson
Position: Defender
Nationality: English
Career: 1974 - 1995
The People's History Museum in Manchester displays the England shirt worn by Viv Anderson against Czechoslovakia in 1978. This was the first time that a black player had ever represented the Three Lions.
And Anderson was not a token pick. The 22-year-old was already a league winner with Nottingham Forest, playing in the European Cup, who some believed could become an England legend. England manager Ron Greenwood would say, "the honour couldn't have fallen on a better pair of shoulders," of the right-back, who would go on to inspire countless young black men to have the dream of playing for their country.
THE HISTORY OF FOOTBALL The extraordinary story of Arthur Wharton, the first black professional footballer
"Viv was always there," Paul Ince - England's first black captain - said of the defender. "He was a role model for me. In fact, I'm still amazed that he never captained England."
2. Jose Andrade
Position: Midfielder
Nationality: Uruguayan
Career: 1921 - 1934
Jose Andrade was not a physical midfielder; reports suggest that he was a carnival musician and a tango dancer, off the pitch. But on the field, he used his intelligence, his speed and his dynamism to tear across the grass and lead by example.
Plenty of myths swirl around Andrade's career but the facts are clear; he was one of the first players to operate with unbelievable technical ability in deeper areas of the pitch and he was compared to Zinedine Zidane by the reports of those who saw him. He was to influence an entire nation - the first country to lift the World Cup, no less - and was really the first deep-lying midfielder.
3. Ossy Ardiles
HONOURABLE MENTION
He smoked, drank and had a lax attitude to training but Jose Manuel Moreno was regarded by many as one of the most complete players of his lifetime. El Charro was a formidable forward and one of the first to experiment with positional fluidity on the field.
Position: Midfielder
Nationality: Argentinian
Career: 1973 - 1991
The story seemed too wild to be true. In 1978, when young reporter Malcolm Folley received a tip-off that Tottenham Hotspur were to be signing two World Cup winners from the other side of the world, he flew off on a whim to meet them at an airport in Spain. It turned out to be legit - and it changed football.
Osvaldo "Ossy" Ardiles and Ricardo "Ricky" Villa became cult heroes in north London: though more so Ardiles, thanks to a 10-year spell (briefly interrupted by two loans). Ardiles was cultured, cool but importantly competitive too, ushering in a brave new world for English sides who scoured the world for talent in the 1980s and more so the 1990s.
Spurs' two Argentinians were trailblazers. It was only in February of 1978 that the European Community ruled that football clubs of its member states could no longer deny access to players based on their nationality.
"It was enormous," Folley told FFT. "It led to the Premier League becoming, probably, the foremost destination for most international players."
4. Franco Baresi
Position: Defender
Nationality: Italian
Career: 1977 - 1997
Franco Baresi was cursed by being defined by who he wasn't. Initially nicknamed 'Little One', since his brother was a former footballer, he later took the moniker 'Kaiser Franz', as a reference to Franz Beckenbauer. Ask any Milan fan and they'll remind you that he was just one figure in a four-man backline, alongside Paolo Maldini, Alessandro Costacurta and Mauro Tassotti.
But Baresi may have been the most important of the lot. He was powerful, strong and tenacious, of course, but it was in his distribution that he was truly a visionary: a playmaker on the last line of defence. Baresi went onto inspire countless ball-playing defenders who copied his style, as managers looked to Arrigo Sacchi's high, compact line for inspiration.
5. Franz Beckenbauer
Position: Defender
Nationality: German
Career: 1964 - 1983
"Franz Beckenbauer symbolises football and a winning mentality," Boris Becker once said of Der Kaiser. "On top of that, he brought the World Cup to his own country. We're proud of him."
Beckenbauer is not only the most important figure in German footballing history, he is arguably the greatest defender of all time, as the only one to win the Ballon d'Or twice. He symbolises the determination and hard graft of the German game and in his role in Die Mannschaft's defence, he invented the sweeper or libero role, intercepting play with ease and breaking forward to kickstart attacks.
GERMAN LEGENDS From fat jokes to the Ballon d'Or: How Gerd Müller became "Muhammad Ali of the penalty box"
The key figure in a hat-trick of European Cups for Bayern Munich, too, the club's defence has been built in his image for 50 years. Not bad considering his dad was unsure if young Franz would have a future in the sport.
6. David Beckham
Position: Midfielder
Nationality: English
Career: 1992 - 2013
He was an icon for anyone born in the mid-1980s onwards, who symbolised a very English zero-to-hero trajectory that hadn't been seen in quite such dramatic fashion. Becks then went onto become one arguably the biggest-ever English celebrity footballer, a Galactico and then revolutionise MLS by moving their at the peak of his fame.
Aside from all of that, it's easy to forget what a bloody good footballer David Beckham really was (even if he is mostly on this list for what he achieved stateside). He stuck a flag in a very particular area of the game, becoming a set-piece specialist; crossing from the right halfspace is still David Beckham's niche, however many assists it yields for Kevin De Bruyne. His influence might be felt more in the fame, glitz and stateside excitement of football - but those who watched him crossing for England have happy memories, too.
7. George Best
Position: Forward
Nationality: Northern Irish
Career: 1963 - 1984
George Best was often one of a kind in any room he'd enter. That was part of his charm, of course. But a world of footballers like George Best did not exist when he began his career in 1963.
Best was the first real playboy footballer, setting a precedent for players to become sex symbols, celebrities and (unfortunately) popstars later down the line. Keegan, Beckham, Ronaldo et al would owe their brands - even having a brand - to the man who began it all... not to mention the man who made the no.7 cool.
"Life was about girls, a few beers, football, good music and being a shag-magnet!" Best told FFT in 2001. "It was part of life and I loved every minute of it."
8. Jean-Marc Bosman
Position: Midfielder
Nationality: Belgian
Career: 1983 - 1995
Jean-Marc Bosman was unextraordinary. An under-21 captain for Belgium, sure, but a fairly run-of-the-mill midfielder at Standard Liege. That all changed when he tried to leave the club at the expiry of his contract.
Liege wanted half a million for Bosman, who took the case to court, arguing his right to free movement, since he wasn't under contract. He won, triggering moves from Edgar Davids and Steve McManaman in the coming months as a result - not to mention the millions of free transfers since, culminating with the likes of Lionel Messi and Sergio Ramos to PSG.
But while Bosman changed the state of play for free transfers, his ruling also led to the relaxing of overseas quotas. Now, no side could have a maximum of foreign players, transforming European football forever.
9. Eric Cantona
Position: Forward
Nationality: French
Career: 1983 - 1997
Eric Cantona was a gamble; a signing that Alex Ferguson made because his gut told him that such talent should not be squandered by a Leeds United side who had no idea how to utilise such a gem.
And Cantona's influence on Manchester United has been told in tales as tall as his collar - but his importance to football as a whole cannot be understated, either. This is a man who, as much as any, defined the Premier League as a destination for cultured, suave entertainers from abroad. Without King Eric, would there have been Bergkamp, Juninho or Zola?
KING ERIC Eric Cantona's kick, 25 years on: "I didn't hit the Palace fan strong enough. I should have hit him harder"
That he combined such grace with fire was influential, too. But for all the pretenders, Cantona led the wave of foreign superstars to the Premier League - he'd no doubt tell you he was the greatest of them all, too.
10. Amadeo Carrizo
HONOURABLE MENTION
Cristiano Ronaldo may call it the knuckleball - but Didi called it the 'folha seca' (that's "dry leaf" in English). The Brazilian forward perfected the technique and represented his country in three World Cups. "For him, playing football was as easy as peeling an orange," Pele would say.
Position: Goalkeeper
Nationality: Argentinian
Career: 1945 - 1970
Amadeo Carrizo played in a River Plate side with Jose Manuel Moreno and Alfredo Di Stefano. But the goalkeeper doesn't just beat them both for how much he pioneered the position he perfected, he might just beat every one of his contemporaries.
Carrizo was an innovator extraordinaire. The first goalkeeper in Argentina to wear gloves, he was also the first keeper that fans had ever seen leave his area. He was a trailblazer for the likes of Rene Higuita and Jose Luis Chilavert - keepers who followed his "loco" idea of being the last line of defence and acting on impulse.
But Carrizo was also the first attacker in the team. He would use his goal kicks to generate counterattacks, leading from the back: something new in the sport. A hugely adored figure in South American football, he was the blueprint for a modern goalkeeper - and someone that so many have looked to over the years.
11. John Charles
Position: Defender/Forward
Nationality: Welsh
Career: 1949 - 1974
Never so much as carded, John Charles would help opposition players to their feet and shake hands with those who fouled him, earning him the nickname, "the Gentle Giant" during his career. Given that he was 6ft 2in, and burley - the very human adaptation of a regal Welsh dragon - his disciplinary record was nothing short of remarkable.
The Swansea lad perfected two positions, playing at centre-back and centre-forward with equal competence and showed incredible ability with both feet: and this was decades prior to Dion Dublin learning to walk, let alone expanding his property portfolio. Charles was quick and incredibly good in the air - but perhaps what made him particularly influential was that he moved to Turin, after 300 appearances for Leeds United.
Charles was one of the first "modern" stars to leave England for teams overseas, followed in the early days to Italy by Jimmy Greaves to AC Milan and Denis Law to Torino, before the likes of Rodney Marsh and George Best went to America, Kevin Keegan moved to Hamburg and Laurie Cunningham went to Real Madrid all in the 1970s.
"John wasn't only one of the greatest footballers who ever lived," Bobby Robson later said of the Juve and Leeds legend. "He was one of the greatest men ever to play the game."
12. Johan Cruyff
Position: Forward
Nationality: Netherlands
Career: 1964 - 1984
There are very few men in football who have found such supreme success both on the pitch and in the dugout; perhaps one compensates for the other. Though Johan Cruyff's managerial prowess has laid the foundations for positional play disciples in the 21st Century, his presence as a player has become somewhat secondary: yes, we know Cruyff was good as a player. But how important was he?
The lanky Dutchman, with hair like a scruffy Beatle and a catwalk model, was the on-field general for the great Rinus Michels - and that should tell you enough. But the way that Cruyff nonchalantly strode across pitches like he owned them, picking the ball up in defence and allowing both teammates and opposition to bend to his creativity was extraordinary. He was a pioneer for off-ball movement. He was the example of how important versatility was in your game. He was Total Football.
THE HISTORY OF FOOTBALL Simplicity matters: how did the Cruyff Turn become so iconic?
"He was a creator. He was at the heart of a revolution with his football," said Eric Cantona in an interview with FFT in 2006, wide-eyed as he discussed the man he had on a poster in his childhood bedroom. "Ajax changed football and he was the leader of it all. If he wanted he could be the best player in any position on the pitch."
Simply, the Dutch style of play would have been nothing without him. But as an individual, he was the first true artist in the sport. A man so watchable, whether he won or not, that others have gone on to interpret this game he plays as not really about winning at all. As a manager? He was a genius. But he was a genius long before he became a manager.
13. Alfred Di Stefano
Position: Forward
Nationality: Argentinian/Spanish
Career: 1945 - 1966
Raymond Kopa would sign from Reims; Ferenc Puskas would join later too. But one man scored goals in all five of Real Madrid's first five European Cups - a player so good that his mere legend would inspire the club's direction 50 years later.
Alfredo Di Stefano was a complete forward, magical in front of goal and this one player transformed Los Blancos from a side who hadn't won a title in two decades to the envy of Spain. He was the Galactico. After Santiago Bernabeu, he would become the defining figure in Real Madrid's history for his prolific output, his prowess in big games and merely the glamour that came with his name.
And it wasn't just Madrid that wanted the biggest and the best in an all-star line-up: all other big-player dynasties have roots in the Real side of the 1950s. It all started with Di Stefano.
14. Eusebio
Position: Forward
Nationality: Portuguese
Career: 1957 - 1980
Mozambique was only liberated from Portugal after a 1974 coup - but the country's most famous son, Eusebio, rose to the very top of football just as African countries were winning independence from European colonialism.
He dazzled at the 1966 World Cup; at a time where African sides had to play off for one space in the tournament, the best player at the biggest show on Earth was from Mozambique - adopted by Portugal, of course - and lighting up the world. But Eusebio put Portuguese football on the map as much as he was the first African to really star at a World Cup.
It didn't matter that Eusebio wasn't born in Portugal: he was Portuguese and he was immensely proud of Africa hosting a World Cup in 2010. What seems like complex identity isn't at all for those who feel it - and the likes of Patrick Vieira, Jorginho and Raheem Sterling have all gone on to represent countries other than that of their birth since Eusebio.
Nigerian writer Chimamanda Ngozi Adichie once said that football allows for "a kind of nationalism that expands as your country loses." Mozambique natives still follow Portugal today as a second-team, after all. And aside from what he contributed to those who feel multiple, conflicting things, Eusebio was grand to watch. Plenty of no.9s grew up wanting to be him: wherever they were from.
15. Giacinto Facchetti
Position: Defender
Nationality: Italian
Career: 1960 - 1978
Catenaccio worked because of Giacinto Facchetti. The Italian full-back was the first player to operate the role in the way that modern-day footballers do, steaming up and down the pitch with pace and stamina. He was incredibly intelligent off the ball and he was an attacking outlet as well as a defensive lynchpin.
Thousands have essentially copied his style - some without even knowing. Facchetti's attacking runs are legendary, his penchant for whipping the ball in from wide have become a staple for anyone in the position. And though he was strong, physical and hard-working, Facchetti was elegant. He is simply the blueprint to which so many have followed.
16. Rio Ferdinand
Position: Defender
Nationality: English
Career: 1995 - 2015
It seems strange to think of a man who had a prank show before the 2006 World Cup as being a pioneer. But Rio Ferdinand didn't just change the way that English centre-backs would be seen - he changed their style for the future, too.
Ferdinand was the first true ball-playing defender of the Premier League age. He took cues from players overseas but to have succeeded in the Prem, he brought about a sea change in English defending. Grit was no longer enough. Every English defender since with any chance of playing in the national side has had to adapt to playing out from the back.
RIO FERDINAND CHATS TO FFT "I was so happy that Edwin van der Sar saved Anelka's penalty in 2008... I was next and wouldn't have scored!"
And in the end, Rio somewhat killed off the traditional English centre-half. At the very least, he gave it one hell of an update.
17. Trevor Francis
HONOURABLE MENTION
Now a politician, Romario was one of a new kind of striker in the 1990s. Frequently described as a "genius of the penalty area", he was more than just a goal-hanger, running from outside of the box to in to capitalise on chances. Thanks to the Brazilian, strikers had to improve their all-round game.
Position: Forward
Nationality: English
Career: 1970 - 1994
Brian Clough joked otherwise, claiming he cost just under - but the fact was there for everyone to know: Trevor Francis was the first million-pound player.
Francis was a nail hammered into the floodgates in 1978, when Nottingham Forest became the first club to shell out six figures on a footballer. The record at the time was half of that and infamously Cloughie distracted attention back from his star man at his unveiling, by claiming that he'd rather be playing squash, since he was dressed in his gear and carrying a racket.
Some may claim that Clough's typical narcissism was what enabled Francis to flourish, free in the knowledge that the failure of such a deal would land on his manager's shoulders. But the fact that the forward scored on in the European Cup final - on his debut, no less - cemented the narrative that big money was worth paying out for big players.
Who knows what the footballing landscape would look like, had Francis flopped?
18. Garrincha
Position: Midfielder
Nationality: Brazilian
Career: 1951 - 1972
No one ever moved to a samba beat quite like Garrincha. A troubled man with bent legs whose addictions haunted him, you'd never know it from watching the sheer joy he played football with.
Garrincha was an artist, one against one. He would dribble like it was in his DNA, occasionally going back with the ball to take on a beaten defender again after embarrassing them once already. In 1962, "Little bird" shone: but more than just bringing the World Cup home, he was one of the few responsible for instilling the national identity that Brazil were here to play with fervour and colour. Millions have been inspired by the way he dribbled with a ball.
19. Gyula Grosics
Position: Goalkeeper
Nationality: Hungarian
Career: 1945 - 1962
One of the pioneers of the Sweeper Keeper, Gyula Grosics was between the sticks when Hungary beat England in "The Match of the Century" - at least, he had have been, had he not have been pushing high up the pitch to compact the entire team and leave himself one-on-one with forwards in on goal.
RANKED! The best goalkeepers in the world right now
But rather than seeming a madcap FIFA avatar marauding after strikers, Grosics played with authority. His defence trusted him implicitly. His judgement was key but his adventure never in doubt.
20. Mia Hamm
Position: Forward
Nationality: American
Career: 1986 - 2004
Dynamic, tenacious and like quicksilver in the final third, Mia Hamm was the first true superstar of modern women's football, leading the United States to victory at the third-ever Women's World Cup in 1999 on home turf.
Hamm was every bit the O Fenomeno of the women's game in the late 90s, as popularity for soccer in the States soared and the rest of the world were left playing catch-up. It wasn't just that she was effortlessly marketable, either (she co-starred in a Gatorade advert with Michael Jordan at their respective peaks); Hamm was incredibly complete as a player, capable of playing across the frontline. She was all things to all women.
Hamm was named as one of two women by Pele in the Fifa 100 list in 2004.
21. Thierry Henry
Position: Forward
Nationality: French
Career: 1994 - 2014
The story goes that when Thierry Henry played for Juventus, his former manager Arsene Wenger bumped into him on a flight and told him that he wasn't convinced he was a winger. He'd get to test out the theory when he signed him for Arsenal - and though it took nine games to strike, they soon found out together that Thierry was a striker, through and through.
Henry had the physicality and power of no.9 but he never lost the urge to drift left and cut inside. Modern forwards were by-and-large box dwellers - but thanks to the self-belief of a man who believed he could drift to help his side wherever they needed him (he assisted an unbelievable 20 goals in the 2002/03 season), strikers soon came in different packages.
THE HISTORY OF FOOTBALL Grace, pace, strength and vision: The making of Thierry Henry
His influence exists in the way Kylian Mbappe leans back to shoot; in the way that Mohamed Salah is deployed wide or how Cristiano Ronaldo was transformed from a winger, who ran up and down the right, to an inside forward, lethal from the left. He wasn't a winger at all - he had far too much va va voom.
22. Nandor Hidegkuti
Position: Forward
Nationality: Hungarian
Career: 1942 - 1958
"We constantly changed positions, so where we lined up at kick-off was irrelevant," Nandor Hidegkuti said of Hungary's Golden Team. "We concentrated on creating the maximum confusion in our opponent's defence."
Hidegkuti was arguably the most confusing of them all. He wore the no.9 shirt but he was like a chess piece, finding space wherever he could to allow his teammates to flourish. He was much more than a false nine, he was one of the originators of Total Football, completely able to fool his opponents with slight of thought.
RANKED! The 12 best international sides who DIDN'T win a major trophy
He had as much influence on the role of a playmaker as a forward and he combined the two in a way that no one had ever seen.
23. Andres Iniesta
HONOURABLE MENTION
Everyone knew what Arjen Robben was going to do: no one could stop him. The flying Dutchman was one of the first inverted wingers in the Premier League, taking his schtick first to Real Madrid and then to Bayern, where he excelled in transition and set a modern blueprint for widemen.
Position: Midfielder
Nationality: Spanish
Career: 2001 - present
When Andres Iniesta left Barcelona, newspaper AS simply ran the headline "Don't Go!" For a player with so few goals, assists or moments of quantifiable brilliance to the untrained eye, it's perhaps odd that this man was so loved by a club who became so used to winning.
Really though, Iniesta altered the DNA of what a midfielder could be. The man who Pep Guardiola claimed "would retire us all" had the close control and dribbling ability of a winger, the famed "La Pausa" of being able to pull defenders into his orbit and a lack of selfishness to the point where were he not so artful in and out of possession, you could be forgiven for thinking he was a Pep-created android specifically for tiki-taka.
And Iniesta was just 5'7. A diminutive figure with a low centre of gravity, he had no right to elbow himself into teams of the decade: so he effortlessly weaved instead, setting the metronome for the likes of Cesc Fabregas, Luka Modric, David Silva, even Jack Grealish to all follow his lead in becoming secondary playmakers, moving the ball faster than an opponent could track.
When he left the Camp Nou, some fans had his name on their backs with his no.8 turned 90 degrees to represent an infinity symbol. His endless elegance is immortalised in the ideals of the club, now - and as the most decorated Spanish footballer ever, he's now the silhouette in which an entire nation's game is modelled.
24. Philipp Lahm
Position: Defender
Nationality: German
Career: 2001 - 2017
Famously, necessity is the mother of invention - but in the case of Pep Guardiola, often, breakthroughs have come from having all the necessary parts and simply assembling them in a way that has never been done before.
Take inverted wing-backs. While at Bayern Munich, Guardiola noticed that his most intelligent player was a full-back, capable of playing on either flank. Philipp Lahm could see the game from pitch level better than an analyst in the stands; by allowing him and David Alaba to drift inward in possession, Bayern were able to keep their attack wide, while moving natural ball-winners to the middle of the park.
It is arguably the last big innovation in football - at a point where we all thought everything had been done. The role has since been continued at Manchester City by Guardiola, while Mikel Arteta, Jurgen Klopp and Marcelo Bielsa have all experimented with similar principles, as the role of the full-back has become more prominent in the modern game.
25. Claude Makelele
HONOURABLE MENTION
Footballers no longer have to stick to football. Megan Rapinoe has fought injustice unapologetically in an era that preached that it could divide your fans. Instead of staying quiet, she's left a mark on women's football in the US like few others.
Position: Midfielder
Nationality: French
Career: 1991 - 2011
Purists will tell you that Claude Makelele was nothing special. That though his role was his by title, he was not the originator of the idea; that he once told Marca "one day I hope to play like Ajax's Aaron Mokoena". Those people may well have a point, too.
But it doesn't matter that "anyone" could have played the Makelele role: they didn't. The French midfielder was not the most talented on the ball, nor was he particularly muscular or imposing. He would simply get himself into the right place at the right time: phenomenally so, in fact, to sit in a midfield among Galacticos and sweep up after them.
He might not have laid the foundations for the position but it's named after him because of what he achieved in that particular spot in the pitch. He was adored by teammates and fans alike, simply because he was one-half of libra-like scales for France, Real Madrid and Chelsea. He was the balance; the yin to flashier yang. And that he was so lauded for being himself and nothing more is pretty special in its own way.
26. Diego Maradona
Position: Forward
Nationality: Argentinian
Career: 1976 - 1997
It's not that he did anything first. Others could beguile audiences with close control, hit free-kicks from range, put their side on their back and even find ways to become "a rascal" and win, as Bobby Robson described that moment. But perhaps no one did it better than Diego Armando Maradona.
For a generation, Maradona was the greatest. He's adored for the exhilaration, the fact that he could always find a way, even the rebelliousness (so much so that many Brazilians relate to him more than Pele). Diego was good enough to change games on his own and all other creative sparks have had to live up to his standards; he raised the bar in every area of the attacking game. He was one of the first to rabona. His dead-ball style influenced many. His style of dribbling was copied but so rarely imitated.
THE HISTORY OF FOOTBALL Diego Maradona's best moments: the greatest player of all time?
"Pelé scored more goals. Lionel Messi has won more trophies. Both have lived more stable lives than the overweight former cocaine addict who tops this list, whose relationship with football became increasingly strained the longer his career continued. If you've seen Diego Maradona with a football at his feet, you'll understand," Andrew Murray said in FourFourTwo's 100 Greatest Footballers Ever list in 2017.
27. Marta
Position: Forward
Nationality: Brazilian
Career: 2000 - present
Quite simply, Marta is the greatest of all time in the women's game: the complete footballer who is both ageless and effortless at once.
There is nothing that she does not excel at. Her vision, shooting, dribbling and movement is simply unparalleled by anyone that she's ever shared a football pitch with and in playing multiple roles throughout her career - from women's football steadily rising to the level it is today - there is not a woman in the sport who hasn't been influenced by her.
And Marta transcends her gender. No male Brazilian has netted more the Selecao; no one has scored more World Cup goals and no one has scored in as many as five. Her legacy ranks alongside the likes of Pele.
28. Stanley Matthews
Position: Forward
Nationality: English
Career: 1932 - 1965
There's a line in romantic comedy Fever Pitch where Colin Firth and Mark Strong are discussing the possibility of becoming professional footballers in their 30s. The film is set in 1989 and Stanley Matthews is used as the example of longevity; were it set today, he probably still would be.
The fact that Matthews played under he was 50 was extraordinary enough but the legendary outside right played in England's top division while doing so. His last England cap came aged 42. He is the only footballer to have been knighted while still playing, a simply unstoppable forward who was hugely intelligent and capable of turning games on a whim with his pace and dribbling skill.
But the way that he looked after his body and sought an edge as age caught up with him has been testament to everyone who's approached the twilight of their career since.
29. Bill McCracken
Position: Defender
Nationality: Northern Irish
Career: 1900 - 1924
The first player on this list chronologically, Newcastle United defender Bill McCracken was responsible for a tactical innovation that would become a cornerstone of defending a century after his career.
McCracken was the first player to play the offside trap. When used as a full-back, he concocted the idea of allowing forwards to stray offside, running on to catch them out. It was so clever that the rules of the sport changed from three defenders between the attacking play and the goal line to two.
30. Lionel Messi
Position: Forward
Nationality: Argentinian
Career: 2003 - present
Lionel Messi could have achieved half of what he went on to do and the story would still be pretty damn marvellous. He was a boy with a growth hormone deficiency who went onto show players around the world that your height did not define you - but that's just scratching the surface.
Messi has influenced every forward in the modern game. He is a reference point for the evolution of the false nine. His receding role into positions in which he could dictate has been pioneering. In a system so defined by space, Messi became a master of it. In an age defined by technicality, there is no one better.
IN HIS OWN WORDS Lionel Messi: the 14 best moments of my career
And that's without touching on the sheer output with which he delivered goals and assists in abundance - not to mention the fact that he was a world-class footballer before the age of 21. He is what every elite player has been judged against since and he is quite possibly a comparison matrix for every single top-class attacker for the rest of time.
31. Thomas Muller
Position: Forward
Nationality: German
Career: 2008 - present
Thomas Muller looked lost at Bayern Munich. It was Louis van Gaal who saved him, giving him a much bigger role by doing less.
Muller invented the raumdeuter: the "no vibes, just goals" footballer who would deliberately stay out of the game and only change it when he felt the time was right for a customary late burst into the box. Though the role of the raumdeuter has seldom been used to describe anyone else, the principles have been applied to countless attackers whose job is simply to "invade space".
32. Hidetoshi Nakata
Position: Midfielder
Nationality: Japanese
Career: 1995 - 2006
Hidetoshi Nakata cited a manga series for his inspiration to get into football. He may have retired at 29 but he burned extremely brightly, starring on the international scene for Japan and landing himself spots in Nike commercials, as well as a defining move to Perugia, starring in a league that had time for such a cultural icon.
Nakata was more than just a fashion-conscious celebrity: he was hard-working, skilful and integral to Roma's last title win. He helped put Asian football on the map and though he suffered a swift fall from grace, he inspired countless while he danced at both club and international level.
33. Manuel Neuer
Position: Goalkeeper
Nationality: German
Career: 2004 - present
It was a 2014 World Cup knockout match against Algeria that many first got a taste of the modern sweeper keeper. With Per Mertesacker playing in Germany's high line, Die Mannschaft didn't have the recovery pace from the defence to deal with on-rushing attackers. Instead, Manuel Neuer came out to meet them.
But Neuer was far more than just a tidier. His ability on the ball has come to define every keeper that followed; Pep Guardiola, a former deep-lying playmaker in his playing days, almost eradicated the DLP role from his Bayern Munich team, such was the ball-playing ability of his goalkeeper and any two centre-backs at his disposal.
Neuer has become far more than a sweeper. He is a defender and a goalkeeper in one, who has reinvented the very remit of what a no.1 is expected to be.
34. Neymar
Position: Forward
Nationality: Brazilian
Career: 2009 - present
On the pitch, his showmanship and technical ability have elevated him to conversations of him being as good as Messi and Ronaldo. Off the pitch, he may well have broken the footballing economy.
Neymar's £200m move to Paris Saint-Germain - over double the previous record - was a domino toppling that led to Liverpool selling Phillippe Coutinho and winning a title, Barcelona's financial mismanagement allowing Messi to leave, the inflation of other players to previously-unseen levels and the tightening of the cabal at the top of football.
We might not have seen the end of its effects, either. It is still the biggest transfer to ever hit football; it may remain the record for decades to come. It's had more shockwaves and ripples than any other deal in the game, too.
35. Antonin Panenka
Position: Forward
Nationality: Czech
Career: 1967 - 1993
No other player has a style of penalty named after them - just think about that for a second. Not only has Antonin Panenka's eponymous pen been copied over the decades by countless footballers, it's become quite possibly the ballsiest moment in footballing history. It's the game's equivalent to the Who Wants to be a Millionaire contestant in the US who phoned his father on the million-dollar question to tell him he was going to win the money.
From this one root though, consider too the reach of what this moment did in football for the penalty stutter, the Jorginho skip and even the very nature of the chip through in on goal - whether from a dead ball or not. Panenka's postcard of a spot-kick has become the very definition of cool.
36. Pele
HONOURABLE MENTION
Claude Makelele had a role; N'Golo Kante had several. The omnipresence of the diminutive midfielder not only inspired others but the fact that a player this good could be found deep in the French footballing pyramids? It recalibrated scouting models.
Position: Forward
Nationality: Brazilian
Career: 1953 - 1977
The thing about being the best footballer on Earth is that naturally, everyone will want to be like you. And for decades, everyone has wanted to be like Pele.
Edson Arantes do Nascimento played football like no one had before. He was 5'8 but could outjump anyone; he could control the ball with any part of his body. He scored for fun: in 1966, the only way to stop him was to hack him down.
Pele burst into football aged 16 and was the only teenager to score in a World Cup final for 50 years. He made the bicycle kick famous, he made the rainbow flick famous, he coined the term, 'The Beautiful Game' and it's because of him that the no.10 had any kind of prestige.
Everything that has happened in football, has happened either directly or indirectly because of Pele. He was the first real superstar of the game, who people would flock just to see. He is the Brazilian footballer. For some, he is still the greatest.
37. Andrea Pirlo
Position: Andrea Pirlo
Nationality: Italian
Career: 1995 - 2017
Five-a-side games in Britain have been completely reinvented since Andrea Pirlo's masterclass against England at Euro 2012: now, one designated amateur can take the role of walking around the pitch and looking nonchalant. But at the very top level, Pirlo has taken the ancient Italian regista role and given it modern importance.
This hipster's favourite began his career much further forward before dropping back to become a telepathic distributor from deep. He was unpressable. The idea of his very role was that he was both the quarterback and the leader by example: suddenly, ball-winners and screeners in front of the defence became almost secondary to someone who was as comfortable as Pirlo in possession.
PIRLO The coolest footballer ever? Why Andrea Pirlo remains a style icon
Every Italian midfielder since has had both strands of both the Fiero-born midfielder and his partner-in-crime Rino Gattuso in their character. Pirlo himself proved that there was culture to be found in midfielders; brain as well as brawn.
38. Ronaldinho
Position: Midfielder
Nationality: Brazilian
Career: 1998 - 2015
The first that England fans really remember of Ronaldinho is him peeling away in celebration after lobbing David Seaman from 40 yards. They may have found it hard to believe at the time but even they would grow to love this cheeky chap.
Ronaldinho reintroduced showiness into football. The last great entertainer of the 21st Century, he would dazzle with his skills; stories came out about how he'd scored all 23 goals in a youth game once and that he practised his unbelievable abilities in his backyard as a child with his dog - he's the most extroverted enigma you could ever find.
But Ronny never did anything to be superfluous. His skills were always an add-on to his playmaking abilities; his hip wiggle against Chelsea, for example, a mere feint to distract his defender before toe-poking in the ball from the outside of the box.
Thousands would follow his lead simply to show off but the absolute elite attackers of the game today - Neymar, Messi, Ronaldo included - all learned the fundamentals of how to fool your opponent from the magician himself.
39. Cristiano Ronaldo
Position: Forward
Nationality: Portuguese
Career: 2002 - present
Considering how Cristiano Ronaldo has spent his career being compared to Lionel Messi, they couldn't be more different. Their influences are hugely contrasted, too.
Ronaldo has been a lesson to anyone that hard work can get you into the same bracket as Messi, for a start. The way that he's made consistency and big-game moments his brand has inspired even players senior to him and the way that he's drifted from a winger to a frontman reliant on movement is something that's been copied in the last few years by players of all levels.
But where Ronaldo and Messi have influenced all together is in the insanity of their output. A goal every other game used to be impressive and yet Ronaldo and Messi are responsible for lifting that to an almost 1:1 ratio; CR7 doing so with an ice-cold mentality which will be likened to him when others follow his posture in years to come.
Who's better is hardly important. Ronaldo means so much to so many and will do for generations to come.
40. Ronaldo
Position: Forward
Nationality: Brazilian
Career: 1993 - 2011
There was a moment against Compostela when Ronaldo was at Barcelona, in which he picks up the ball on the halfway line. He's being tugged back but it doesn't phase him. He beats two, three, four men and buries the ball in the back of the net. Manager Bobby Robson is flabbergasted, holding his head in disbelief. He's seen nothing like it.
And it was just one of hundreds of moments in which R9 would take everyone's breath away with just how much he was world-class at. He was a striker so complete, so powerful, yet so graceful. He could find the net from anywhere. He was unmarkable. And the speed: no one has moved quicker. Few have thought quicker, either.
Ronaldo did not just define the 90s: he was the very model of a model footballer. Brands wanted him on board, defenders wanted the ground to swallow them. Every forward for 25 years has been in awe of what this man could do at his absolute peak.
His name has slipped down Google thanks to a Portuguese namesake but strikers these days owe everything to this man. R9 grabbed the ceiling for what a modern striker was and took it into the stratosphere.
41. Nilton Santos
Position: Defender
Nationality: Brazilian
Career: 1948 - 1964
"I have never envied today's players' money but the freedom they have, to go forward," Nilton Santos once said. The left-back was one of the first to really adventure down his wing and in doing so, he helped create a tradition for so many more Brazilian full-backs after him.
Santos played with adventure, stamina and precision, getting up to help his attackers in Brazil's 1958 and 1962 World Cup wins. Carlos Alberto, Cafu, Roberto Carlos, Marcelo and Dani Alves would all take cues from this marauding defender - and that was just the Brazilians.
42. Matthias Sindelar
HONOURABLE MENTION
Trent Alexander-Arnold has reinvented the full-back - and he was only born in 1998. We've seen deeper playmakers but the incredible creation that Liverpool have got from the right-back has revolutionised the position in the modern game.
Position: Forward
Nationality: Austrian
Career: 1924 - 1939
When Matthias Sindelar and his girlfriend were found dead in their Vienna apartment, the cause of death was traced as being carbon monoxide poisoning. Some say it was suicide. Some say that it was an accident. Others have noted Sindelar's opposition to the Nazi party, his refusal to play for Germany and the irony of a gas leak killing him, suggesting that perhaps something more sinister was afoot.
Sindelar's tragic and untimely death cut short a magnificent career. The Austrian played at a time where the game was discussed in coffee shops rather than pubs; his nomadic drifts from his role up front around the final third were seen as sophisticated, like he the conductor of an orchestrator taking the lead. And even though he would rarely stay in his penalty area, he still scored 240 goals in 312 goals for Austria Wien.
THE HISTORY OF FOOTBALL Euro legends: Remembering Matthias Sindelar, Austria's inspirational forward
'The Paper Man' essentially invented positional fluidity, off-ball movement and challenged the idea of a formation not being set in stone. His technical ability was superb but his footballing brain was even more extraordinary: and it's this guy who suggested that perhaps football could be more than a working-class sport. Sindelar was a genius who would come be an inspiration not just in coffee shops but across the world.
43. Kelly Smith
Position: Midfielder
Nationality: English
Career: 1994 - 2017
Kelly Smith's father suggested she take up another sport after she was booted off of a boy's team as a child for being too good. Smith persisted with football, of course, but she had to go the long way around to get the respect that she deserved.
England's greatest-ever female player had to leave for the brighter pastures of US soccer just to get an opportunity. So many girls followed her lead; Bend It Like Beckham was essentially based on her life. She returned to her home country, won the Quadruple with Arsenal and cemented her place in history.
Luckily, Smith's is a path that doesn't have to be trodden, anymore. The advances in funding and awareness of the women's game in Britain has come on leaps and bounds, allowing girl to reach the top of the game without having to travel halfway around the world.
But Smith's legacy endures, for the goals she scored, for the fire she had on the pitch and for the genius she exhibited. She is an inspiration - and not just to young girls.
44. Francesco Totti
Position: Forward
Nationality: Italian
Career: 1992 - 2017
When faced with the phrase, "carpe diem", Francesco Totti claimed he didn't speak English. It's hard to believe that this man would come to define a Roman institution, really.
But Totti was another pioneer of the modern false nine and a reference point for second strikers in the 2000s. The Roma legend would never get the respect that he deserved during his career - Italian football is somewhat dismissive of legends who shun the northern clubs - but his influence was far more cultured than his lack of Latin knowledge suggested.
45. Jamie Vardy
Position: Forward
Nationality: English
Career: 2007 - present
No one went from the bottom to the top quite so quickly. But it's not necessarily that Jamie Vardy was a non-league player who won the Premier League - it's the longevity that followed.
When Vardy was wanted by Arsenal following his title-winning season, he was seen as a short-term option with just a couple more years in the tank. He has gone on to become the oldest player to win the Golden Boot in the Premier League and barely took his foot off the gas.
RANKED! From non-league player to Premier League star – the 10 greatest fairytale stories
Vardy has become the lesson not only that it's never too late but that players who reach the top later can keep going later. The Leicester star may be a late bloomer but his blossoming has become a parable to so many others.
46. Carlos Volante
Position: Midfielder
Nationality: Argentinian
Career: 1923 - 1943
One of the earliest examples of a pure defender being used in a midfield, Carlos Volante gave his name to the Segundo Volante position.
The Argentinian was tenacious, athletic and capable of covering a lot of ground. He made his name in Argentina before coming over to Europe and helped to define the idea of a ball-winnings being used further up the pitch - which in turn has led to the idea of pressing.
47. George Weah
Position: Forward
Nationality: Liberian
Career: 1985 - 2001
"George Weah was a real surprise. I have never seen any player explode onto the scene like he did," Arsene Wenger said of a player who would dedicate his Ballon d'Or to his mentor and former manager. Weah is still to this day the only African player to have received the accolade.
Weah would pay for the national team's travel, kits and even bonuses from his own pocket. He was a leader of men before he even ran for president in the country - and on the field, he was a supreme off-ball mover whose power, speed and intelligence would tie defenders in knots. He played on the shoulder: when he lost his marker, there was stopping him.
It's not just fellow African players that Weah inspired - not to mention an imposter pretending to be his cousin, just to get games for Southampton. Weah was one of a clutch of players who rewrote the rule book for forwards in the 90s.
48. Ian Wright
Position: Forward
Nationality: English
Career: 1985 - 2000
Ian Wright was 29 when the Premier League began. That he came to be one of its greatest-ever strikers is nothing short of remarkable.
Wrighty is the paragon of starting from nothing, having been at Greenwich Borough earning £30 a week at the age of 22. He was an example of never giving up.
Perhaps the man who broke Arsenal's all-time scoring record played and celebrated with such passion because of that rocky start to his career. Wright went to prison for a couple of weeks, came from an abusive home and succeeded against all the odds. If you'd escaped what he'd escaped, you'd have had a smile on your face too.
And it's poignant to think of all of those who have been inspired by the striker who didn't quite make it. His story transcends sport.
49. Lev Yashin
Position: Goalkeeper
Nationality: Russian
Career: 1950 - 1970
Lev Yashin is the stuff of myth. The only goalkeeper to have won the Ballon d'Or, keeper of 270 clean sheets and over 150 penalty saves, he would dress in all black, like a demon separated an attacker from goals.
Gordon Banks claimed to visualise the things that he'd seen Yashin do and he wasn't alone. 'The Black Spider' was imposing, authoritative and tall but surprisingly agile, acrobatic and with exceptional reflexes. He was one of the first keepers to bark instructions at his defence, with his wife said to be concerned at how much he shouted. Yashin was also one of the first to bypass his defence entirely to collect crosses and developed a signature throw to kickstart counters for his side.
THE HISTORY OF FOOTBALL Euros legends: Russia's Lev Yashin, the Ballon d'Or winning goalkeeper
Yashin was the pinnacle of his position - and he reached the top by smoking and drinking to keep his nerves. The goalkeeping position has been built in his image since.
50. Zinedine Zidane
Position: Midfielder
Nationality: French
Career: 1989 - 2006
Zinedine Zidane essentially rewarded the strategy of paying huge money for footballers when he scored the winner in a Champions League final, after Real Madrid bought him for £45m and smashed the transfer record. He was the Galactico. He was the elegant figure around which Los Blancos built their side.
As a result, Zizou was the archetypal no.10 for a generation (well, no.5, too). His performances at Euro 2000 are legendary, as is the 2006 masterclass against Brazil. His Marseille turn has become synonymous with him; his stepovers became copied by pretenders. His first touch was unrivalled.
No.10s have since played in his image - but few have had his quiet charisma and ability to buy acres from millimetres.
Restock your kit bag with the best deals for footballers on Amazon right now (opens in new tab)
Subscribe to FourFourTwo today! (opens in new tab) Guarantee the finest football stories and interviews dropping on your doorstep first every month.
NOW READ
BACK TO THE 90s How the Champions League copied the World Cup – before rivalling it as the most prestigious tournament in football
LIST From non-league player to Premier League star – the 10 greatest fairytale stories
FREE FLOPS 12 terrible free transfers that didn't live up to their billing
Thank you for reading 5 articles this month* Join now for unlimited access
Enjoy your first month for just £1 / $1 / €1
*Read 5 free articles per month without a subscription
Join now for unlimited access
Try first month for just £1 / $1 / €1