Ranked! The 50 best players of the 2000s
The 50 best players of the 2000s – the sensational decade in which some of the finest footballers ever to play the game blessed us with their gifts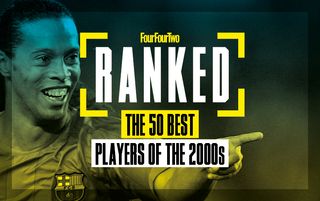 (Image credit: Future)
The best players of the 2000s changed football forever. Post-training parties were a thing of the past, leagues awash with cash meant Galactico squads were hastily assembled and a new era of tacticians were slowly ousting the 4-4-2 formation.
Increased marketing budgets saw companies like Nike and Pepsi create iconic adverts involving casts of the greatest players on Earth. Whether it was Eric Cantona hosting a 5-aside tournament in the belly of a cargo ship or David Beckham strolling into a saloon in the Old West, audiences were kept entertained by the greats long after the final whistle blew.
The birth of YouTube and Twitter made cutting and sharing compilations of dribbling, passing and thunderous volleys the norm, while phrases like 'Tiki-Taka' and 'Park the bus' entered our everyday vernacular. Here, FourFourTwo counts down the greatest players of the era, from the ball-juggling advocates of Joga Bonito, to the water-carriers and penalty box assassins.
N.B. We have only taken each player's 00s performances into account.
Ranked! The 50 best players of the 2000s
50. Petr Cech
BC, goalkeepers were madcap mavericks: the nutters of the side who you wouldn't want to meet on a dark night. BC, of course, being "Before Cech".
Petr Cech not only set a record of lowest goals conceded in his first Premier League season, he set the standard for a newer, calmer breed of keeper. He was simply unbeatable for so long at Chelsea, becoming a club legend in his early years at west London.
49. Juan Roman Riquelme
A glorious throwback, Riquelme was as traditional a No.10 - or enganche in Argentine parlance - as you'll ever see. If you wanted your playmaker to press from the front, he wasn't your man. But Riquelme's vision, invention and outstanding technical quality made him a mesmerising watch.
He began the decade by giving Real Madrid the slip in the Intercontinental Cup, as Boca Juniors won 2-1 in Tokyo. He later starred for Villarreal, before ending the decade back at Boca's La Bombonera, his spiritual home.
48. Henrik Larsson
Swedish goal machine Larsson exploded into the noughties with 173 goals in 206 appearances for Celtic – a goal ratio which may never be seen again above Hadrian's Wall.
After dominating Scotland, Larsson proved he could do it in the big leagues too, helping Barcelona to two league titles and a Champions League before firing Manchester United to the Premier League title in 2007. A goalscorer of effortless ability.
47. Edwin van der Sar
Van der Sar's career looked to be winding down in the first half of the 2000s. A disappointing second season at Juventus prompted a transfer to Fulham, where he spent four years bobbing around mid-table.
A move to Manchester United in 2005 provided the Dutchman with a stage more befitting his talent. A complete goalkeeper whose distribution with his feet set him apart from his peers, Van der Sar was an integral part of Alex Ferguson's last great United team.
46. Javier Zanetti
El Tractor racked up more than 450 games for Inter between the Millenium and New Year's Eve 2009, and Milan's adoptive son never gave less than an eight out of 10, whether at right back or at the base of midfield.
Intelligent, strong, quick and a natural leader, Zanetti's mere presence on the pitch lifted those around him. Described by Ryan Giggs as "the complete player", Zanetti was a god to Nerazzurri fans.
45. Gianluigi Buffon
Buffon played four decades as a professional footballer, but we saw the best of him in the 2000s. An imposing figure between the sticks, he combined agility and sharp reflexes with an aura which radiated far beyond his penalty box.
Juventus made him the most expensive goalkeeper ever in 2001, but Buffon was worth every lira. He starred as Italy won the World Cup five years later, keeping a record five clean sheets in Germany.
44. Xabi Alonso
Remember the goal that Xabi Alonso scored from his own half? The first one, that is - the classic against Luton in the Cup. One of the most striking things is Steven Gerrard's utter lack of surprise. Maybe he's just quite inexpressive - or maybe it's recognition that his midfield partner was one of the most gifted passers of the decade, with a god-given understanding of space and positioning. We fancy the latter.
43. Cafu
The 32-year-old Cafu hoisted the World Cup trophy aloft as Brazil captain in 2002, having played every minute of every game in Japan and South Korea. His energy and dynamism down the right flank ensured Brazil's wing-back formation was a success.
Cafu still had time to reach two Champions League finals with AC Milan, winning the second of them in 2007. His stamina was undiminished even then, and his tactical intelligence and leadership also stood out.
42. Michael Ballack
A difficult start to the decade saw the Bayer Leverkusen talisman lose the Bundesliga title race, DFB-Pokal and Champions League finals in the space of three games in May 2002. He lost the World Cup final two months later just for added effect.
Fortunately, things were looking up. At Bayern Munich and Chelsea, the midfielder's precision passing, strength, stamina and thunderous shot were key to four league titles and six domestic cups. The definitive box-to-box midfielder.
41. Roberto Carlos
Roberto Carlos belongs in the pantheon of all-time great Brazilian full-backs. Few started the decade as well as him: between 2000 and 2002, the thunder-thighed left-back won two Champions Leagues and the World Cup.
His surges down the wing and powerful shots from distance were a prominent part of Real Madrid's galactico era. The honours dried up as the decade wore on, but Roberto Carlos' legacy was long since assured.
Thank you for reading 5 articles this month* Join now for unlimited access
Enjoy your first month for just £1 / $1 / €1
*Read 5 free articles per month without a subscription
Join now for unlimited access
Try first month for just £1 / $1 / €1