Ranked! Every badge at the World Cup 2022
Who gets top marks for design in our rundown of all 32 World Cup 2022 crests?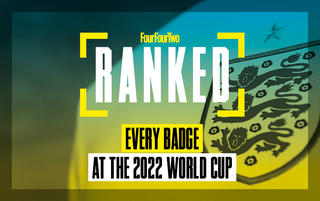 (Image credit: Future)
The 32 qualifiers for the Qatar World Cup 2022 have been dropping their new kits in recent weeks – which means it's time to refresh ourselves with all 32 badges.
While at club level, your eyes might be drawn to the latest obscure commercial logo slapped across a team's shirt (though that didn't stop us ranking every badge in the Football League), international jerseys remain sponsorless, so when you're watching the World Cup, you'll end up putting a lot of attention on the badges.
Having already ranked every World Cup kit, FourFourTwo have gone and scrutinised every single World Cup 2022 crest – and ranked them as follows...
32. Costa Rica
Oh, Costa Rica, what have you done? Your old badge was a fantastically funky joy to behold – whereas this new design, unveiled last year, looks like something you'd see bolted onto the front of an SUV.
31. South Korea
The Siberian tiger has long been extinct on the Korean Peninsula, but it remains the national animal of South Korea – which makes it a bit strange that it's been turned into a coaster for the national team's crest since 2020.
30. Ecuador
Ecuador haven't got rid of the majestic Andean condor which perched atop their old crest, but they might as well as have done: would you have spotted it hiding within the stylised 'FEF' (Federacion Ecuatoriana de Futbol)? This is quite a downgrade.
28. United States
"It's uniquely and unmistakably American," said (opens in new tab) the United States Soccer Federation upon launching this emblem in 2016. We suppose that's true, but it's also a bit basic and boring for our liking.
28. Iran
'Functional' is the first word which springs to mind upon seeing Iran's badge. The national flag is on there – and a football bearing the country's name and, er, yeah. We've seen less interesting shields, to be fair.
27. Senegal
The Pan-African colours dominate Senegal's crest – to the extent that they somewhat disguise the lion at its centre, which also appears to be a football (look closely). It's undeniably vibrant – but perhaps a bit too vibrant for its own good?
26. Cameroon
When you think about the shirts of Cameroon – the Indomitable Lions – you probably think of the majestic beast opposite the badge. The Cameroonian Football Federation crest isn't as majestic – but you can't say it's not a nice, clean design.
25. Denmark
Denmark's crest is a show of beauty in relative simplicity – which feels entirely appropriate for the country which gave the world Lego. There's no angular assembly on here, however, just stylish-fonted goodness with some floral decoration.
24. Ghana
The Black Stars are one of several World Cup 2022 teams with multiple emblems on their shirt. This is their actual badge, though, featuring a football neatly encased in the pan-African colours of Ghana's flag.
23. Tunisia
The Tunisian national team are known as the Eagles of Carthage – and that's one pretty scary-looking eagle on their badge. The various circles and curvatures give this crest a certain hypnotic quality, too.
22. Uruguay
Uruguay's badge is a good 'un – but wait, four stars? Haven't they 'only' won the World Cup twice? Well, yes, but they have technically won four world championships – with FIFA recognising La Celeste's 1924 and 1928 Olympic victories as such.
21. Serbia
Serbia's greater coat of arms (opens in new tab) is incredibly detailed – so it makes total sense that the country's FA picked the lesser version for their emblem. Adding a gold outline to the shield and neatly placing a football in the middle, they've done a great job.
20. Morocco
Is Morocco's badge made out of wax? It appears to be melting. But that does give it quite a unique look. As for the crown centrepiece, well, that's because the national team is administered by the Royal Moroccan Football Federation.
19. Qatar
Records are bound to be broken at the World Cup 2022 – so it's somewhat apt that the base of the hosts' badge resembles an LP. Displaying the colours of Qatar's flag and centred around the most ornate football we've ever seen, it's certainly striking.
18. Germany
Like so many great German products, Die Mannschaft's just works. It was never going to trouble the top end of the list, but we've seen far, far worse. It just works (and they have tried to jazz the roundel up a bit with that broken line).
17. Australia
There's quite a lot happening on Australia's badge, which is the country's coat of arms. And we can't really knock that (although look at the poor kangaroo having to support that shield entirely by itself because emus, well, don't have arms).
16. France
That cockerel's looking pretty damn proud – dare we say cocky, even…? And he's entitled to, in fairness: he gets to adorn the shirt of the reigning world champions France (his gold predecessor looked slightly better, mind you).
15. Switzerland
Only two of Switzerland's four official languages have made it onto the national team's badge. It's been done cleverly, though, with the initials of the French ('Assocation Suisse de Football') and German ('Schweizerischer Fussballverband') incorporated into this groovy design.
14. Wales
There's no mucking about from Wales with their crest as they return to the World Cup after 64 years away. The Dragons are going to Qatar – and no one's going to be left in any doubt about who they are.
13. Belgium
Shields are so commonplace among badges that they can be somewhat generic. Belgium haven't fallen into that trap, though, incorporating the national flag into a great big (slightly ironically, lowercase) B – which complements the gold background perfectly.
12. Poland
The Great World Cup 2022 Eagle-Off continues with Poland's entry: the country's coat of arms, a white eagle wearing a gold crown. Taking pride of place on the Poles' plain white/red shirts, it ends up being about as traditional as badges get.
11. Argentina
Argentina's badge has evolved steadily over the years: firstly with the addition of the laurel wreath before the 1982 World Cup; then, in 2004, two stars to commemorate their triumphs of 1978 and 1982. And have you ever seen a more snazzy-looking F?
10. Portugal
Portugal's crest is an unmistakably grand affair – which becomes even grander when you find out what it incorporates: an adapted version of the country's lesser coat of arms, combined with the badge of the Military Order of Christ. Every day's a school day, eh?
9. Spain
Portugal: 'We've got the grandest badge on the Iberian Peninsula'. Spain: 'Hold my cerveza'. The 2010 World Cup winners have only gone and used the country's whole coat of arms, put it on a shield and wrapped it in a ribbon. Fancy.
8. Brazil
Sure, it helps that they've won the World Cup a record five times (hence the many stars), but Brazil's badge is one of the most instantly recognisable in international football. Yellow, green and blue: who else could it be?
7. Netherlands
The Netherlands' heraldic lion rampant instantly stirs up images of Johan Cruyff and Marco van Basten. For that, it's a legendary crest – which has been jazzed up on the new Dutch home shirt by inverting the orange and black. Ooh.
6. Japan
Don't you just hate it when a crow nicks the sun? That's not your bog-standard corvid on Japan's badge, though; it's a Yatagarasu, a three-legged crow from Japanese mythology (although that is the sun, as depicted on the country's flag).